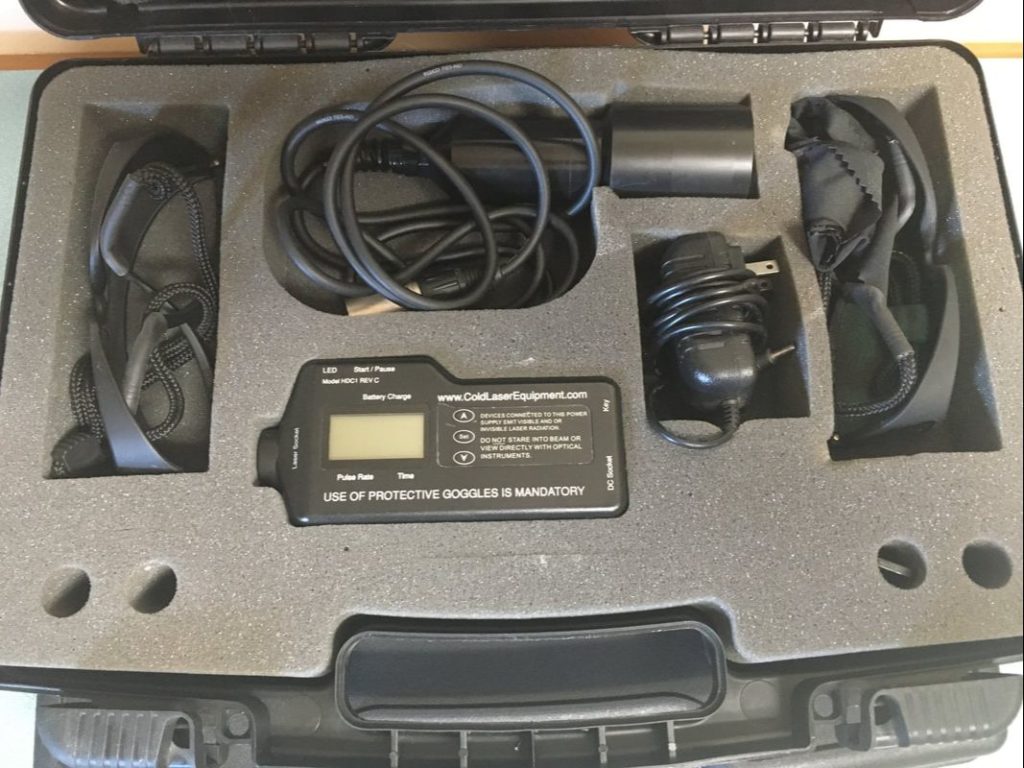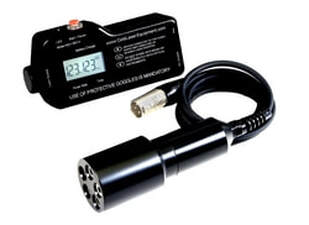 For the past decade or so I have, for certain patients with certain conditions, been using LOW LEVEL LASER THERAPY in my clinic.   About a decade a go I purchased one for pain in my hands / thumbs due to twenty years of adjusting patients, and was blown away by the near-immediate results — a year of progressively worsening pain gone in two or three 2-3 minute treatments.
A year later I was hauling firewood for our outdoor boiler and stepped on a piece of wood and rolled my knee. Not sure if I tore a meniscus or not, but after reading about DR. ALEXANDRA SCHNEE'S amazing laser knee treatment protocols down in Dallas, I used my laser, and again, in a matter of a few treatments, the pain was totally and 100% relieved. I was impressed enough to purchase three more units; one for each treatment room and one for my exam room / office. Over the years I also purchased about 6-8 of these for patients and family that wanted them for various reasons (including pets; a dog and a horse). For the record, I am required to do a consult (phone or email suffices) with anyone who purchases a laser from me since it is considered a "prescription" device.
The thing that continues to intrigue me most about Low Level Laser Therapy (LLLT) is that it effectively addresses such a wide array of health issues that go far beyond relief of pain (for instance, it's now being used to regrow hair on the scalps of bald people). The numerous therapeutic functions of LLLT (HERE are 45 of them) are all due to a process similar to photosynthesis (plants ability to convert sunlight to energy), known within the scientific community as "PHOTOBIOMODULATION". What is photobiomodulation you ask? I'll answer that in the next paragraph but none of this should come as a huge surprise considering what we continue to learn about the many health benefits of light therapy for humans or other animals (HERE, HERE and HERE). Back to photobiomodulation.
God, who once said, "Let there be light," created every cell in your body with light-receptors, which are also known as photo-receptors. When these receptors are stimulated with very specific frequencies or wavelengths of light (between 550 and 950 nanometers), it turns on the mitochondria in the treated area. Why is this such a big deal? MITOCHONDRIA are of critical importance to health because they are the one and only source that manufactures cellular energy known as adenosine triphosphate or ATP. Why is having extra ATP important — especially if you are dealing with chronic pain or chronic illnesses which are the result of INFLAMMATION?
Think of ATP as currency because that is exactly what it is —- the body's energy currency. In the same way that it's nice to have extra money at the end of the month, having extra ATP (the only form of cellular energy your body can use — all energy from food must first be converted to ATP for use in the body) provides it with extra cellular energy that can be used by the body to heal, repair, or regenerate injured or damaged tissues, while still taking care of day-to-day cellular metabolism.
My lasers were manufactured by an FDA-approved facility in Cape Girardeau, Missouri (Healing Lasers Design), for a physician who became excited about laser therapy after using the technology to cure a DISC HERNIATION in his low back. The laser retailer itself, LASER-THERAPY.US, is, at least to the best of my knowledge, no longer in existence or was purchased by another company, probably due to an inability to compete with the likes of Erchonia, Lite Cure, K-Laser, Thor, Terraquant, Multi-Radiance, Avant, etc, etc, etc, and the dozens of newer and smaller brands that have sprung up over the past decade.
Here is a press release from ten years ago last month…..
"The new digital hand help controller features rechargeable batteries and comes standard with one laser wand that contains five true cold lasers (three 635nm 5mw Class 3A and two 808nm 150mw Class 3B lasers). The included travel case contains the 7 ounce, ergonomically-shaped power supply (1.6″ x 2.6″ x 5.4″) as well as a laser wand (2″ round and approximately 6″ long). The product's newer, simplified design features an LCD screen and user-programmable timer from 15 to 180 seconds in addition to a user-adjustable light pulse rate from continuous to 150hz or pulses of light per second."
Since I currently use only two treatment rooms in my clinic and do all laser treatment in my office / exam room, I am going to part with three of these lasers (scratch that; one is sold — there are two left). These are fully functioning and look / work like the day I purchased them. They come in the case with two pairs of special protective glasses, a key that unlocks the laser (do not lose it), the charging unit, and the laser wand. This laser can function in either a pulsed or continuous frequency mode, depending on what you choose to program in.
Directions for use are simple and found on the back of the hand-held power unit. As far as dose is concerned; I am enclosing with the unit, a 7-page safety / dose / protocol sheet I put together, along with dose recommendations from WALT (World Association for Laser / Photobiomodulation Therapy). If you are interested, simply use my CONTACT PAGE to get a hold of me. The cost is $1,500 per laser plus $25 for shipping and insurance. These units are being sold as is. They look and function like the day I purchased them, but as is the case with any electrical equipment, I cannot predict what tomorrow may bring. As far as paying for them, you can pay for them over the phone by a credit card or send a check (naturally, we will make sure it clears before shipping).