Office & Contact Information
Office Hours
Monday, Wednesday, and Friday from 8:30 to 5:30 — closed for lunch from 12:00 to 1:00. Tuesday and Thursday mornings are reserved for out-of-state and international patients.
Address
1219 South State Route 17, Mountain View, MO 65548. We are located about a mile south of the airport (just past Highway WW) between the Kingdom Hall and Christian Church — across the street from A-1 Storage).
Phone Number
If you have any questions or to schedule an appointment, don't hesitate to give us a call at: (417) 934 6337
Location Information
Here's a map of where we're located. The circle represents the area within a five-hour drive. Springfield, Rolla, Poplar Bluff, Mountain Home and Arkansas are all within a simple 1.5-hour drive.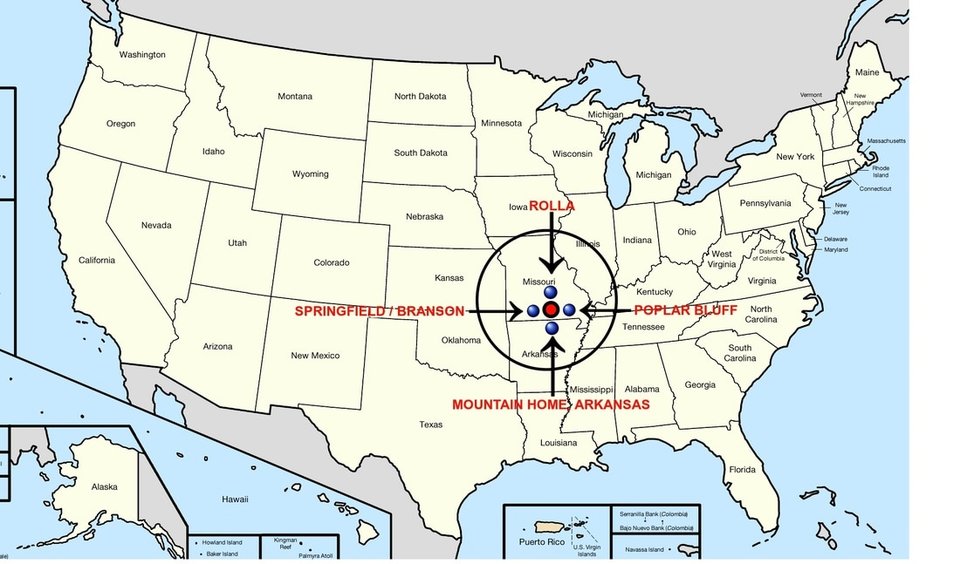 The clinic feels more like an Ozarks Cabin than a healthcare facility. The native hardwood floors, wall to wall woodwork, gospel bluegrass playing softly in the background, wall mural of world-famous Alley Springs Mill, and local artwork, all blend together to create a warm, caring atmosphere that is drastically different from the industry-like coldness of the average doctor's office.

We are located in the heart of the Ozarks in scenic Mountain View, Missouri. Mountain View is central to Springfield (it's 100 miles west of us), Poplar Bluff (it's 100 miles east of us), Rolla (it's 100 miles north of us), and Mountain Home, Arkansas (it's 100 miles southwest of us). We are about a half hour north of West Plains, which is our county seat.
A few of the towns in our immediate area (most within an hour's drive) include, Mountain View, West Plains, Pomona, Hartville, Dora, Birch Tree, Winona, Eminence, Salem, Houston, Alton, Thayer / Mammoth Springs, Willow Springs, Cabool, Mountain Grove, Mansfield, Ava, Norwood, Thomasville, Summersville, Raymondville, Licking, Koshkonong, Van Buren, Fremont, Ellington, Elsinore, and many others. Springfield, Poplar Bluff, & Rolla are only an hour and a half drive, and Branson is right at 2 hours. We are 3 hours from St. Louis and Columbia, about four hours from Kansas City, Tulsa, Memphis, and Little Rock, and about five hours from Wichita and Nashville.
For those of you who might be wanting to fly your own plane to Mountain View, we have the best airport in this part of the state. It is a mile long, recently re-paved, completely redone, and capable of handling jet traffic (HERE). It also has a brand new self-serve fuel pump. For those who wish to fly commercial, the closest airport is SPRINGFIELD, MO. Many people are now flying into the BRANSON AIRPORT as well. St. Louis and Kansas City are both international airports, with St. Louis being significantly closer.
If you are coming from out of state to see us; one quick warning. Because I am located in an area that could best be described as "extremely rural," some people have had issues getting here. Do not trust your GPS without looking at a map first. We really are not difficult to find or get to, but if you rely on your GPS here in the Ozarks, you could end up almost anywhere.
Long Distance Patients
For out-of-state or international patients, we do things a little bit differently. Because Dr. Schierling might need to spend a significant amount of time with you, depending on your problem it might be impossible to treat you during regular office hours. This is why he will almost always schedule his long distance patients at times when regular patients are not scheduled.
Because Dr. Russ actually wakes the rooster up each morning, your appointment will probably be between 6:00 am and 7:00 am. In most cases (depending on what he determines from the health history you email our office), this will mean a Tuesday or Thursday. Cheryl will work with you to find a time that will work for everyone. For more information, please visit our FAQ PAGE.
Here's a list of things to do while in Mountain View, MO.