CHRONIC NECK PAIN FROM INJURED FASCIA
TISSUE REMODELING DRAMATICALLY IMPROVES
THE LIFE OF A LOCAL LOGGING ACCIDENT SURVIVOR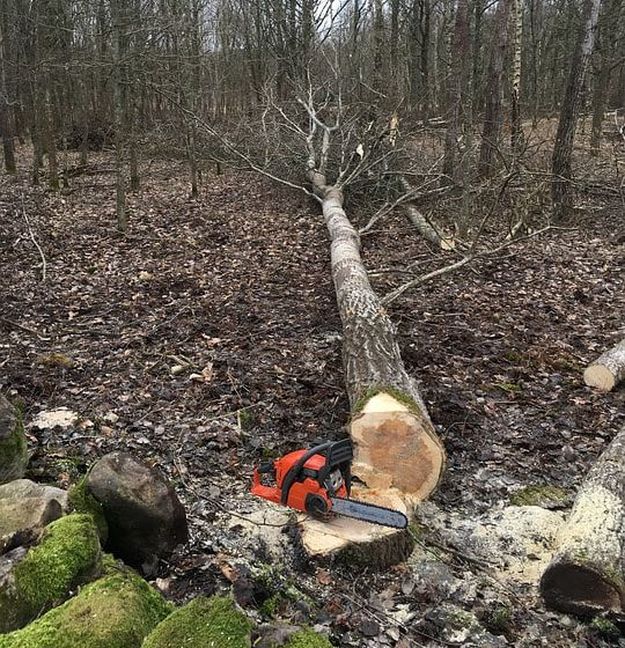 In many ways TR has lived the life of a Hollywood stuntman.  Case in point, he had just finished doing the video below and was at the front desk taking care of his visit (his third — the first since March).  I was coming out of a treatment room with "X" walking next to me (an individual I've treated less than a handful of times), when TR recognized him. 
He pointed, started laughing, and said in his Ozark's drawl, "doc, that's the guy that was with me when I wrecked my truck at 120 miles per hour."  But believe it or not, that's not why TR came to see me the first time back in March.
Two years ago TR was logging — one of the chief industries in our neck of the woods (no pun intended) — and the skidder driver accidentally pulled a standing cut tree down on top of him.  The tree, 24 inches across the stump (a bit bigger than the tree in the picture above), hit TR in the head, neck and back, and then crushed him into the ground in a wadded heap.  Two years later he ended up in my office with virtually zero range of motion in his cervical spine and the kind of NECK PAIN and BACK PAIN that had made him start wondering if he might be better off dead. 
By then he had tried just about everything the medical community had to offer and was looking for anything that might provide a solution.
I saw TR back in March, two visits, consecutive Friday's, and then saw him on Friday when he did these videos for us.  I say videos, plural, because the camera was accidentally stopped during filming.  If you are interested in looking at other similar videos, I have hundreds, along with dozens of case histories (HERE).  Be sure and like, share, or follow on FACEBOOK if you have friends or loved ones whom you feel might benefit from this type of information.
Logging Accident Survivor Testimonial