"HACKSAW RIDGE"
SEE THIS MOVIE TODAY IF YOU HAVEN'T ALREADY DONE SO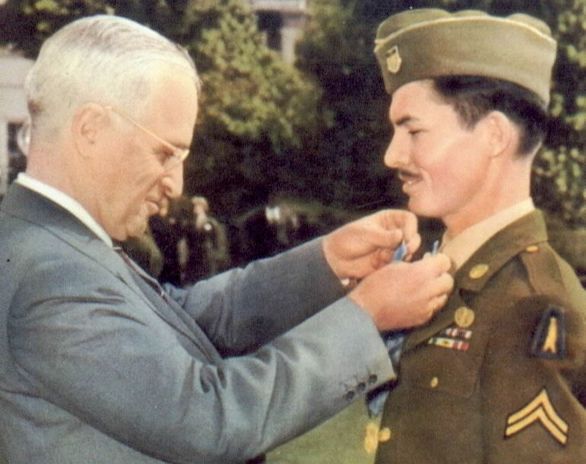 "You people of the South don't know what you are doing. This country will be drenched in blood, and God only knows how it will end. It is all folly, madness, a crime against civilization! You people speak so lightly of war; you don't know what you're talking about….  Those who brought war into our country deserve all the curses and maledictions a people can pour out…. War is hell."
I realize that there are many ways to look at the history of events leading up to WWII (I've almost finished James Bradley's 'interesting' Imperial Cruise — HERE — with one third of the book's nearly five hundred reviewers rating it a 1 star).  Gibson's latest offering doesn't compare, and is in a class of it's own as far as telling-it-like-it-really-was is concerned.  There are any number of history lessons we can glean from Gibson's magnificent "Hacksaw Ridge" other than the fact that this war really was hell, and the nations who foisted it on us did not escape without "curses and maledictions".  The movie's opening scene (along with several others) reinforced the debt that Europe seems to have forgotten for American blood shed on that continent in both world wars.  But that's not where the lessons end.
Having read any number of books on the battle for Okinawa, including Feifer's brilliant TENNOZAN, rest assured that this movie was not exaggerating how severe things were for our troops as they got closer and closer to Japan proper. After bringing the greatest naval brigade in the history of the world to Okinawa, and off-loading thousands upon thousands of US soldiers who essentially cut the final island standing between the Allies and the Japanese mainland in half (initially there was no resistance), the war to take the island's ends became the most brutal and bloody in the history of the brutal and bloody South Pacific campaign.
Called the "rain of steel" by the entrenched Japanese, the battle for Okinawa was fought against an enemy that would not surrender no matter what. Thus, our troops were forced to capture and hold ground inch by bloody inch, all while our navy was under constant attack from Japan's "divine wind" (Kamikazees). With places like Sugar Loaf and Shuri Castle already etched into the lore of the United States Marine Corp, it's easy to add THE MADEA ESCARPMENT (Hacksaw Ridge) to the list. But this movie was about something much bigger than war, it was about the courage, the resiliance of the human spirit, and one man's resolve to stay true to himself, his wife, and his God, no matter the cost (I was fortunate enough to have known many veterans like this, including PB).
The story revolved around the life of Private Desmond Doss (February 7, 1919 – March 23, 2006), a young man (unfortunately today we typically refer to his age group as "boys" — HERE) who became our nation's first conscientious objector to win the Congressional Medal of Honor.  In a day and age where it's normal to hear stories of college-aged students looking for 'safe spaces,' coloring books, ice cream cones, puppies to pet, and counselors; all because their candidate lost an election; or our standing president nominating celebrities, movie stars, sports heroes, billionaires, and similar, for an award that is supposedly the civilian equivalent; this story stands out as a breath of fresh air.   I would put the quality of this movie right up there with Saving Private Ryan, Band of Brothers, or the story of the battle for Guadalcanal, The Thin Red Line.