HEARTBURN / ACID REFLUX DRUGS
MORE DANGEROUS THAN MOST PEOPLE REALIZE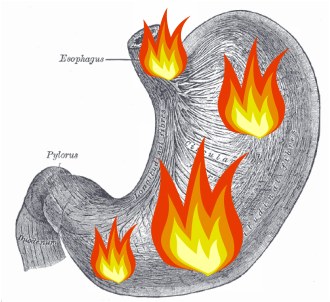 "Madison Avenue has given stomach acid a bad name, but it's really kind of a bum rap. Dip into any physiology textbook, and you'll find that stomach acid serves several constructive purposes. Pepsin, an enzyme that is essential to the preliminary digestion of protein, needs an acidic environment in the stomach to be effective. The strongly acidic hydrochloric acid pumped out by cells in the lining of the stomach also plays a direct role in the early digestion of some foods. And stomach acidity is a built-in barrier to infection. Yet millions of us spend billions of dollars each year on products and medications designed to lessen or get rid of stomach acid."
From the website of Harvard University's Medical School (Do PPIs Have Long-Term Side Effects?)
"Proton pump inhibitors (PPIs) are medications that are ubiquitous in a gastroenterologist's practice. There have been emerging concerns with reports of potential adverse effects associated with use of PPIs. In the United States, such reports have led the Food and Drug Administration (FDA) to issue a number of broad-based product warnings, including all of the available PPI drugs either for prescription or over-the-counter purchase. These potential interactions have ranged from alteration of absorption of vitamins and minerals, metabolic effects on bone density, drug interactions, or alterations of intended effect, infection risk, and hypersensitivity response with consequent organ damage." The introduction of a 2013 study (Reported Side Effects and Complications of Long-term Proton Pump Inhibitor Use) from the medical journal Clinical Gastroenterology and Hepatology.
"Clinicians should appreciate the risk of acute interstitial nephritis during treatment with PPIs, monitor patients appropriately and discourage the indiscriminate use of these drugs." From the latest issue of the Canadian Medical Association Journal (Proton Pump Inhibitors and the Risk of Acute Kidney Injury in Older Patients: A Population-Based Cohort Study).
"Studies have shown that once you're on them, it's hard to stop taking them. It's almost like an addiction"
Dr. Shoshana J. Herzig of Beth Israel Deaconess Medical Center in Boston, from Roni Caryn Rabin's June 25, 2012 article in the New York Times called Combating Acid Reflux May Bring Host of Ills.
So; among the other things that doctors have no time to spend with patients on (HERE is another), they are now supposed to (according to the CMA study above) "discourage the indiscriminate use," of PPI's or Proton Pump Inhibitors otherwise known as "Heartburn Drugs". With doctors now forced to spend the majority of the office visit fiddling with their computer in order to meet government demands (HERE), believe me when I tell you that warning patients about the potential pitfalls of this exceedingly common class of OTC and prescription drugs (Prilosec, Prevacid, Zegerid, Asiphix, Tagument, Purple Pill, etc, etc, etc) is the last thing on their minds. And now this.

It seems that the same study has shown a nearly 300% increase in hospitalizations for Kidney Failure in the elderly patients who take these drugs. Here's the scoop. If you are over 65 and don't take heartburn drugs, your chances of ending up in the hospital for Kidney Failure are 5.46 out of 1,000 (number one reason is NSAID use / abuse). Take the PPI's and you increase your chances to 13.49 per 1,000 people. I don't care who you are, that's a scary increase —- especially when you consider that hospitalization for Kidney Failure is just the tip of the iceberg. Kidney Failure means that now you get to look forward to dialysis for the rest of your (shortened) life.

But for a moment let's forget about Kidney Failure and dialysis. Because these drugs are so popular (some estimate they are taken by nearly 10% of the adult population, and are said to be the third most commonly taken class of drugs in America), I want to spend a few minutes showing you the wide array of health problems that Proton Pump Inhibitors are associated with in the peer-reviewed medical literature.
WHAT TO DO WITH THIS INFORMATION ABOUT PPI USE

As is always the case, there are two ways to go about healthcare. You can take a passive role and allow the medical community (BIG PHARMA included) to essentially use you as a guinea pig for their drug-based therapies or most recent foray into EVIDENCE-BASED MEDICINE. Or you can take an active role by taking matters into your own hands, educating yourself, and making some long overdue lifestyle changes. If you really want to get off of this stuff, the basic premise is no different than it would be for most other health problems (I'll get to that momentarily). However, you will probably need to start by supplementing with a stomach acidifier. A stomach acidifier? Say what?

The idea that you have too much or too strong Stomach Acid, and that it's causing your problems, is rarely anything other than pure and unadulterated poppycock. In case you have not figured it out, you need strong Stomach Acid, and lots of it for digestion. A failure in this area leads to a failure to digest food — particularly protein —- properly. Instead of digestion, the food goes through a process similar to fermentation called putrefaction (can you say putrefy?). This is where the food sits in your stomach and churns, not really digesting, but instead rotting, and not being allowed to enter into the Small Intestine because it's not acidic enough. Even though the food is not being digested by Stomach Acid (Hydrocholric Acid or HCl), it is high in other sorts of organic acids. Two things happen in this case.

Firstly, the valve at the bottom of the stomach tends to stay shut. When sensors detect high enough levels of Stomach Acid in the digesting food, the valve at the bottom of the stomach opens and allows the bolus into the small intestine. If not, the food tends to stay in the stomach too long, churning up into the esophagus and burning people. Sometimes this problem is so severe, people will have a burn line (ring) around their mouth / lips.

Interestingly enough, if you start looking, it's easy to find any number of physicians and researchers who are raising red flags about these drugs. Unfortunately, as far as the general public is concerned, the warnings seem to be falling on deaf ears (or more likely, they are being drowned out by Big Pharma). Despite the astounding number of Americans taking drugs from this class (children and particularly infants are the newest and hottest market), research reveals that like most drugs, they are way over-prescribed. We can turn to the VA (Veterans Administration) for an idea of just how severe this problem of over-prescription really is.

A 2013 study published in the Journal of General Internal Medicine called

Proton Pump Inhibitor Prescriptions and Subsequent Use in US Veterans Diagnosed with Gastroesophageal Reflux Disease, concluded the following. "Many Veterans receive high total daily dose PPI prescriptions as initial therapy for a GERD diagnosis, and few patients have evidence for cessation or reduction of therapy." This begs the question of how high is high? Last May's issue of the Journal of Pharmaceutical Health Services Research helped answer this by revealing that, "The quantity of initial PPI prescriptions provided to Veterans does not reflect the guideline recommendations for GERD management and could affect long-term use of these pervasive medications." In article carried by that same month in US Medicine: The Voice of Federal Medicine, the author of the previous study (Dr. Andrew Gawron) stated, "It seems that, once these veterans are prescribed a PPI, they are rarely taken off of it. Two years after their initial prescription, most are still on the drug."

If you are interested in getting off PPI's, you'll have to go about it systematically. As crazy as it might sound to you right now, one of the first things you'll need to do is acidify your stomach without acidifying your body. The acidifiers I currently use in practice are Raw Apple Cider Vinegar for mild cases (get it at any health food store), and Zypan, by STANDARD PROCESS for more severe cases. More than likely, you'll need to LOSE WEIGHT as well. HERE is a post to help with the whole process. Remember; the longer you are on these acid-blocking drugs, the greater the chances of developing severe, irreversible damage.
And just for grins, why not ask your doctor some questions about the information found in this post before robotically filling your next prescription.