CURRENT RIVER
THE LAST TRIP OF THE YEAR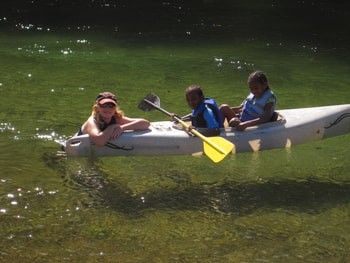 Truth be known, everyone knows that I am a big fan of the
CURRENT RIVER
. Our family usually manages to get to the river 8 or 10 times during the during the six-month season —- the months when weather is good enough.
When Amy told me that she had things to do to get ready to teach the new additions to our family (we homeschool our four kids), and would appreciate it if I took the kids to the river for the day so that she could prepare, I told her that I could probably find it within myself to help her out. Truthfully, I jumped at the opportunity! You don't have to ask me twice to head to the Current River!
Anyway, although the day started out cool, we managed a high of 85 degrees without a cloud in the sky. The water was every bit as beautiful as the Caribbean. We spent the day kayaking, cooking out, playing in the sand, and yes — swimming. These pics were taken six weeks ago today —- just a few days before Halloween; and although some will not believe it, nothing has been Photoshopped.