MISSOURI OZARKS GOLDWING FOR SALE:
(SOLD!)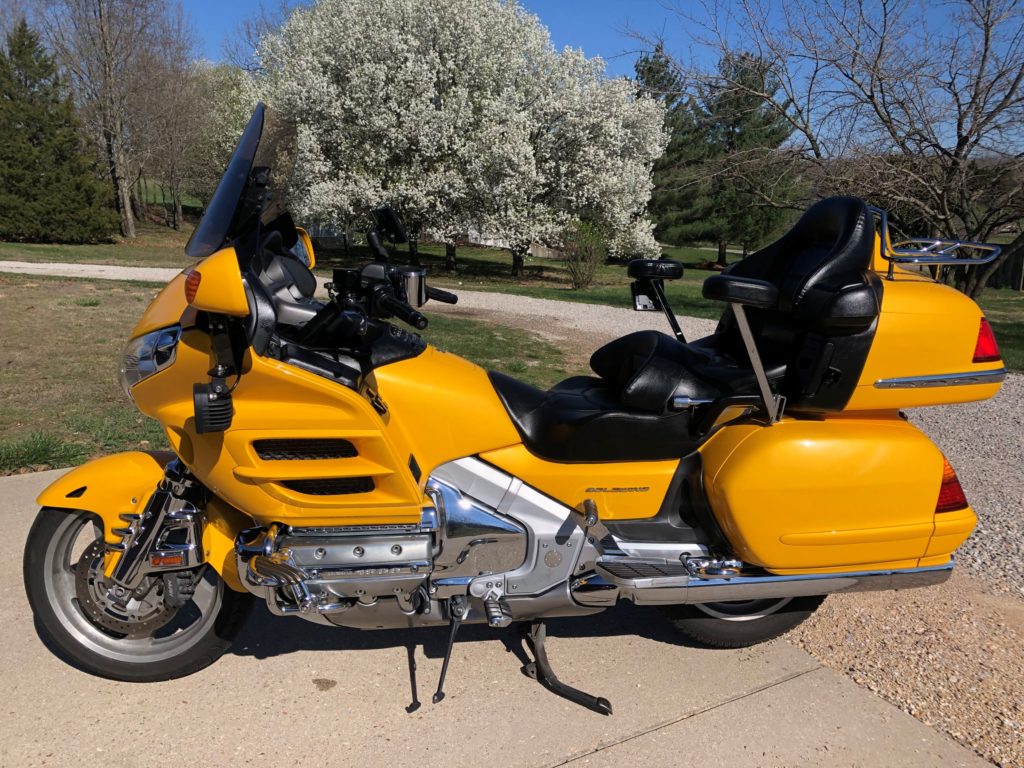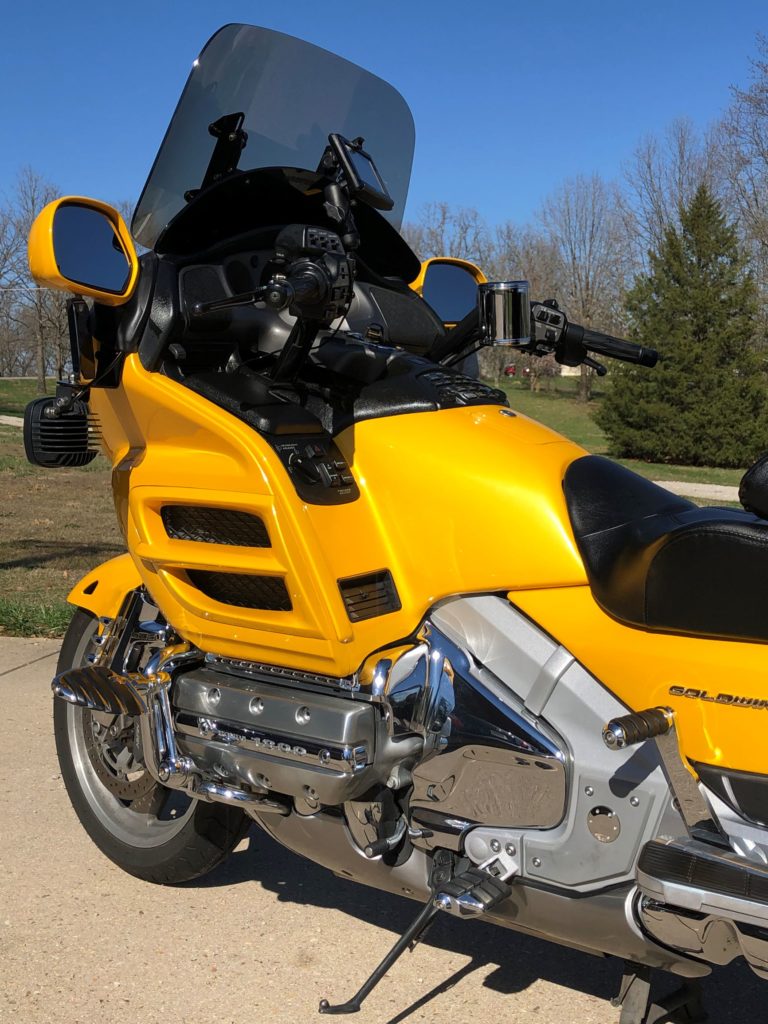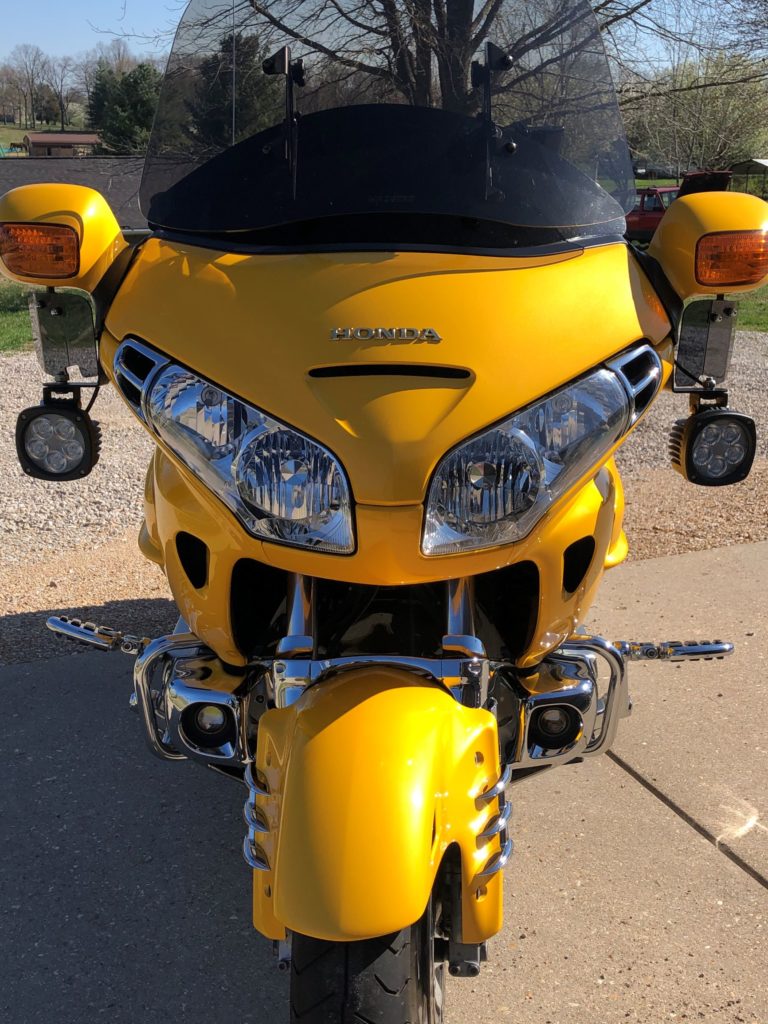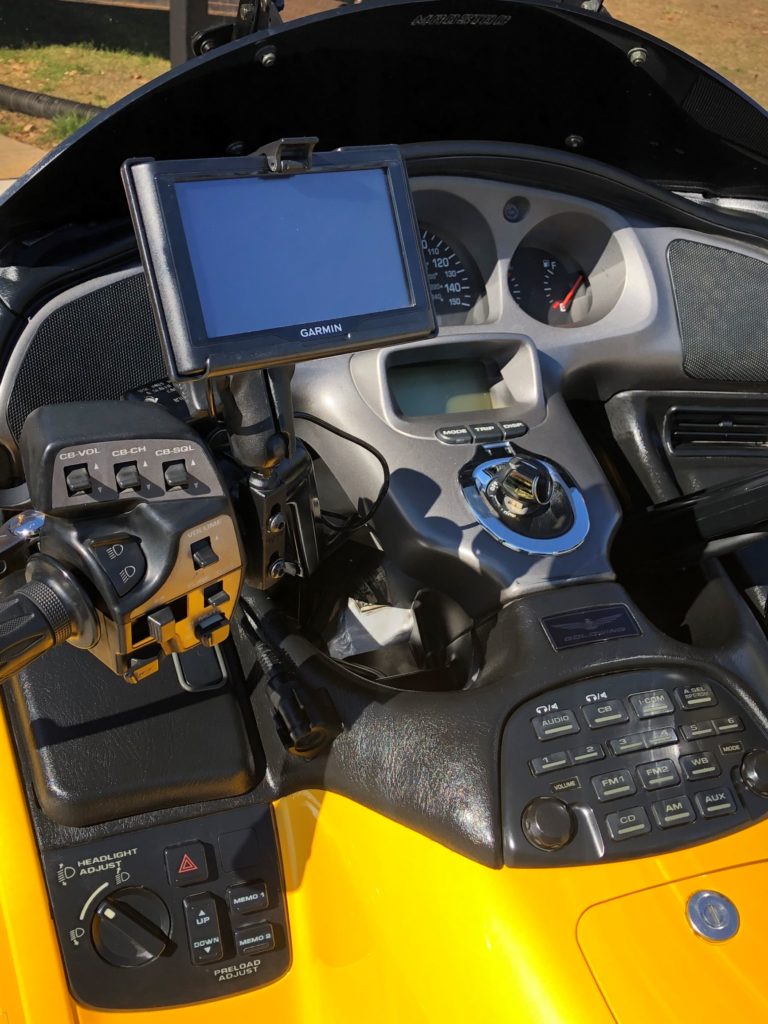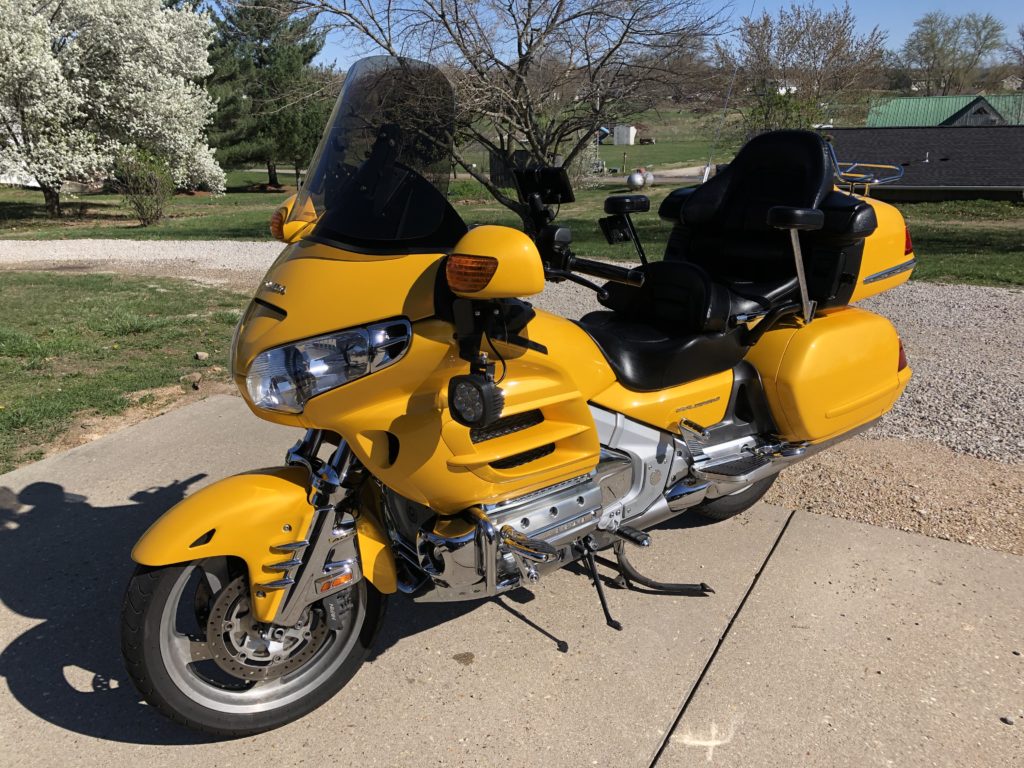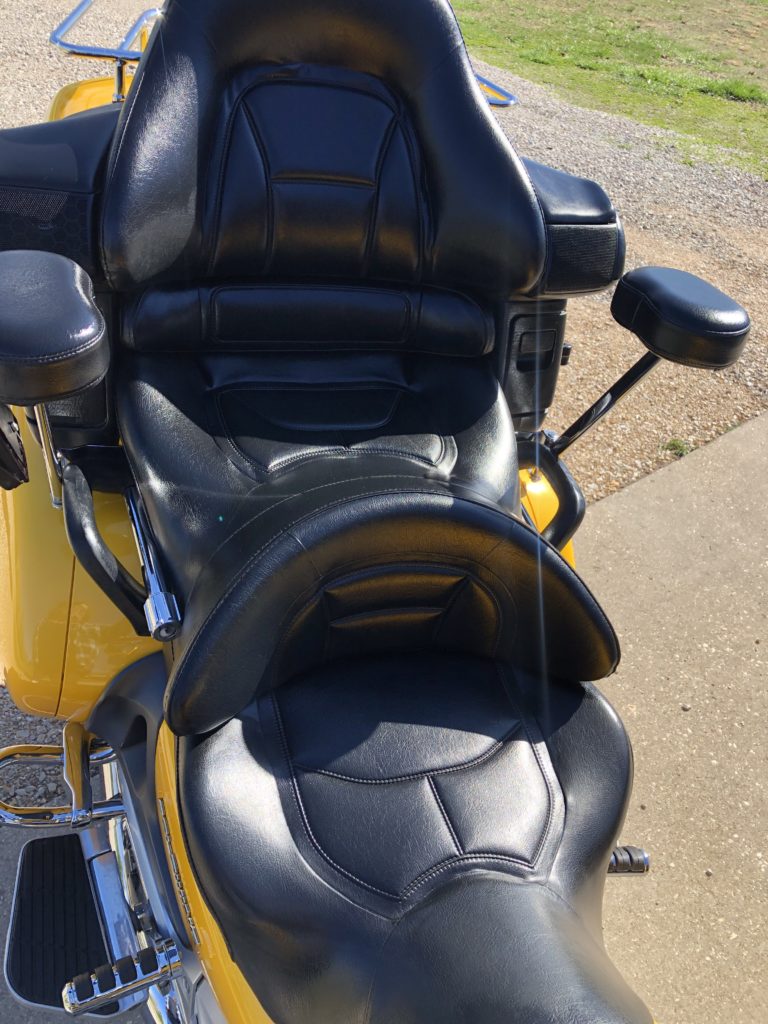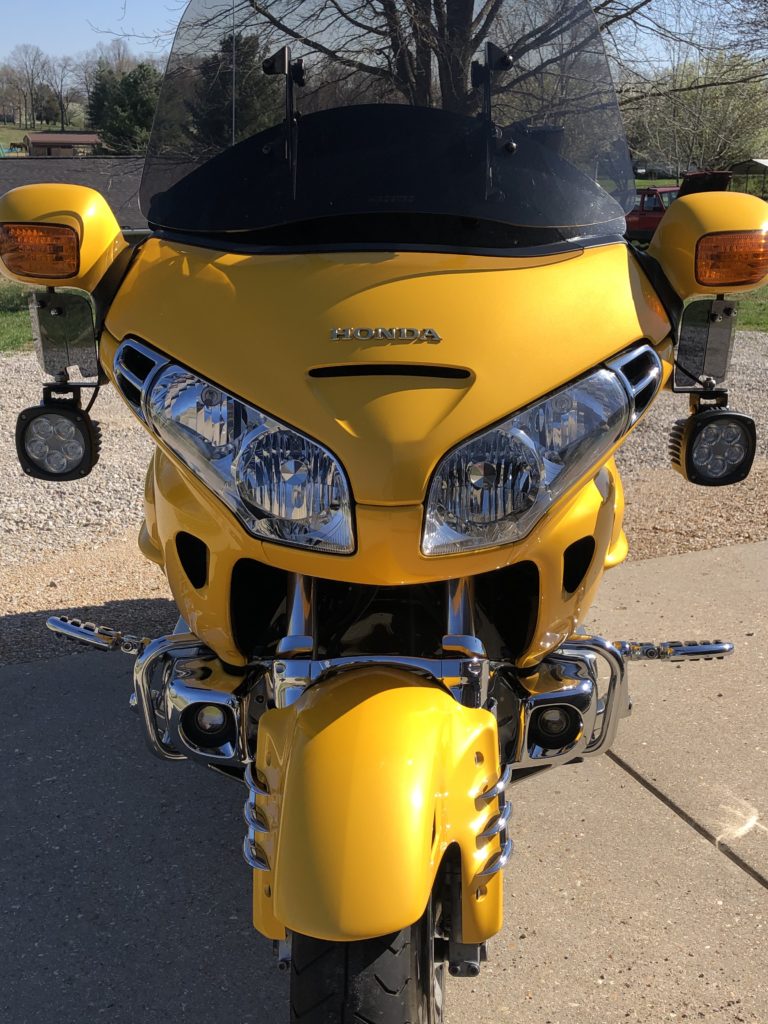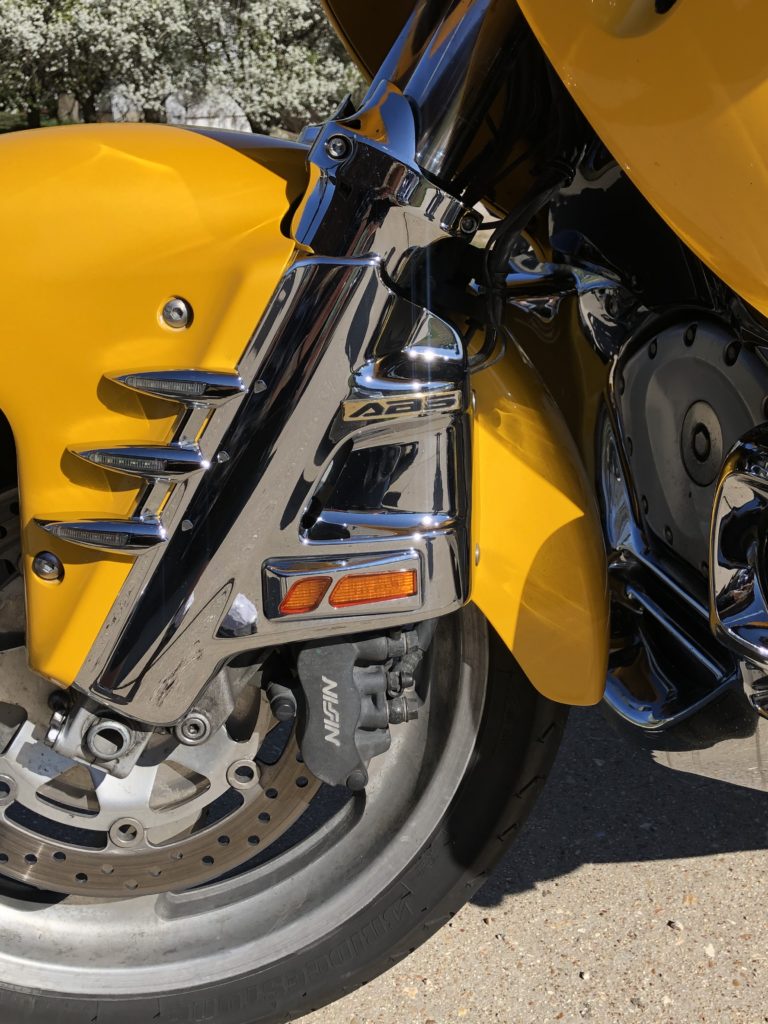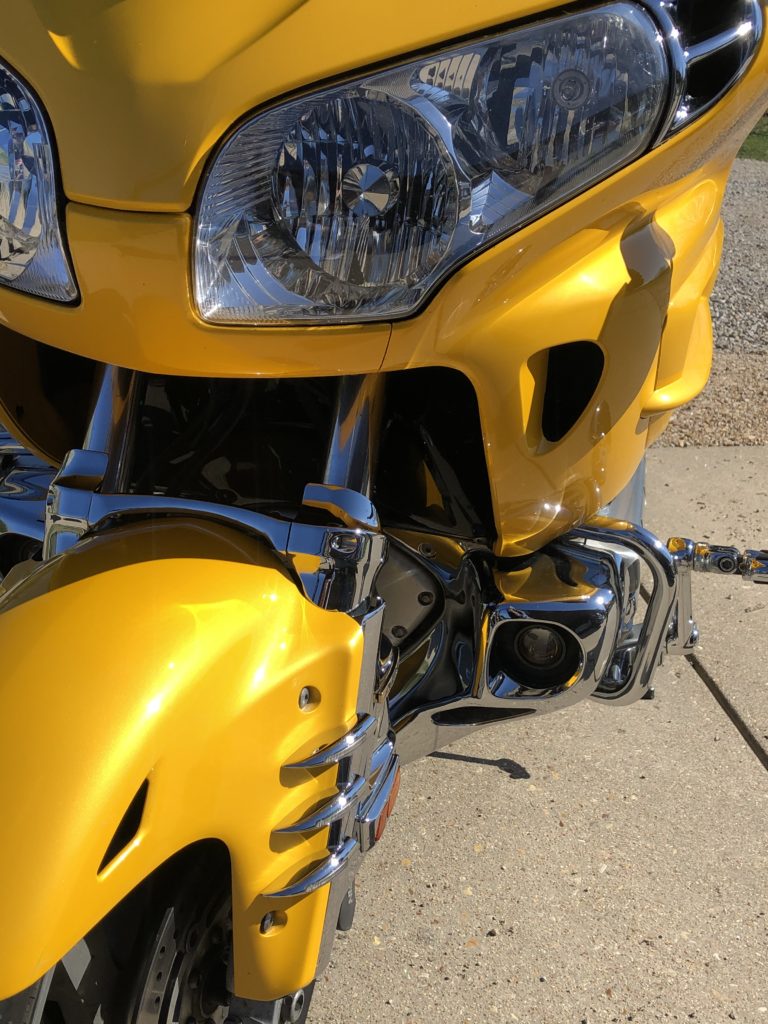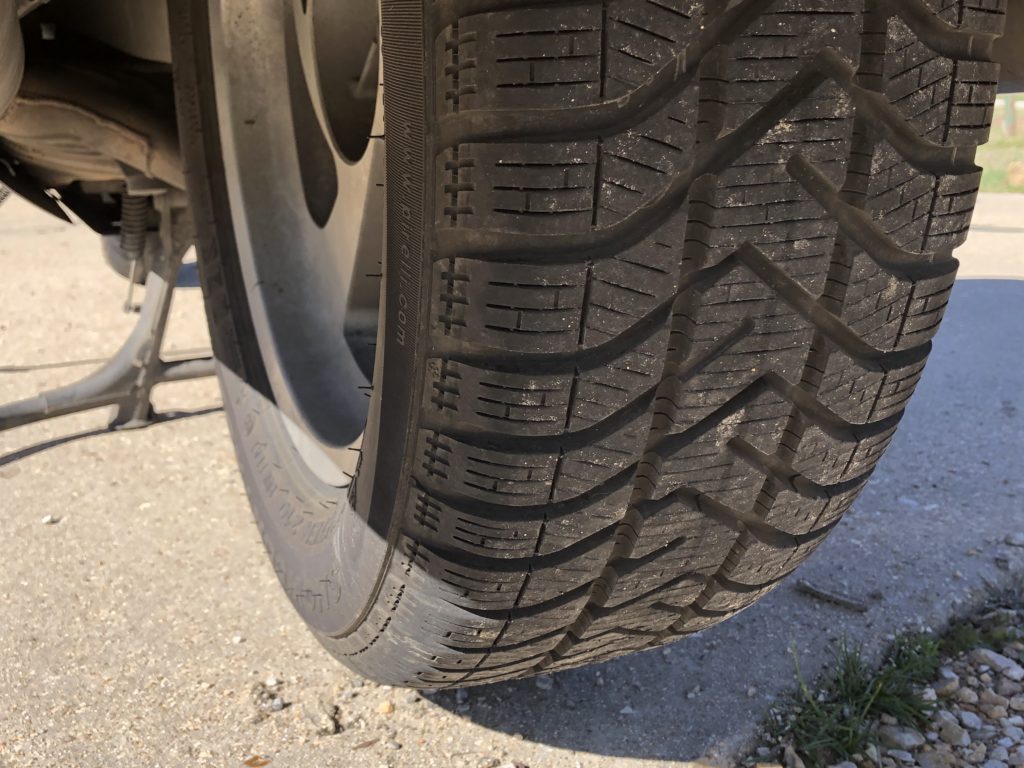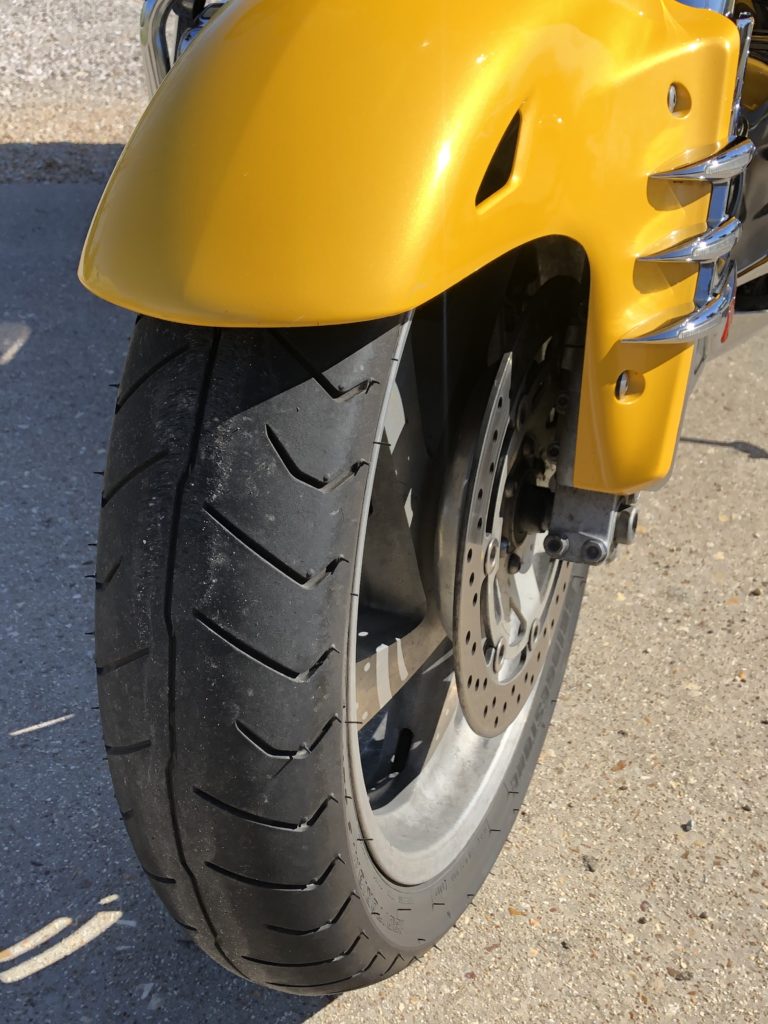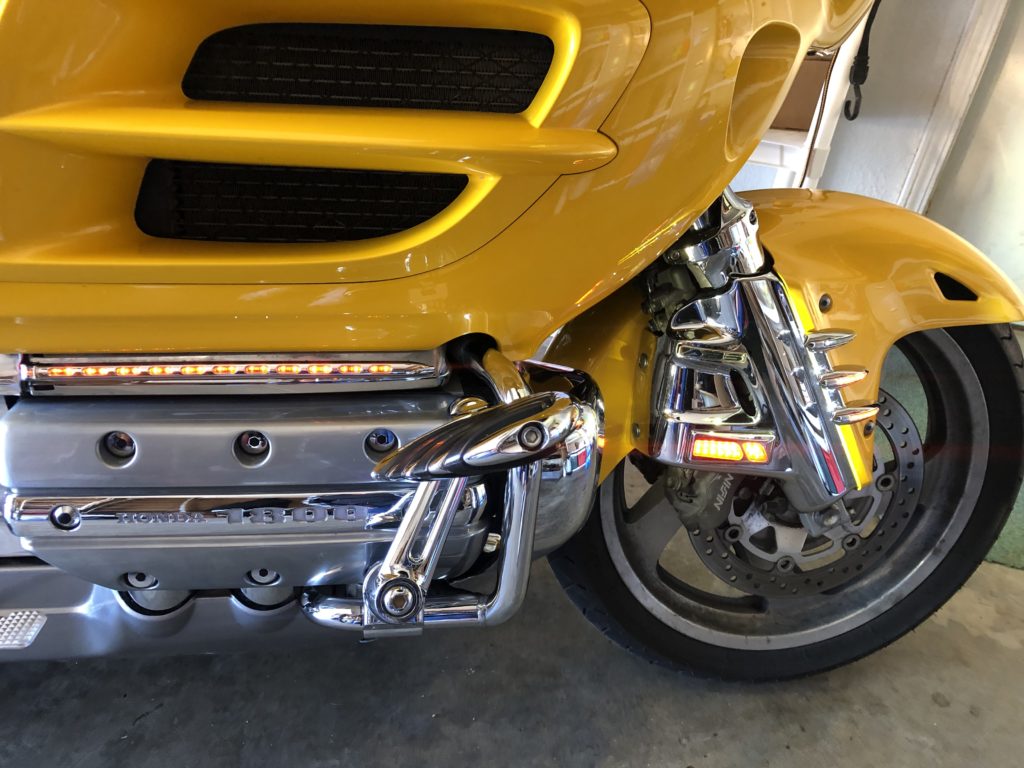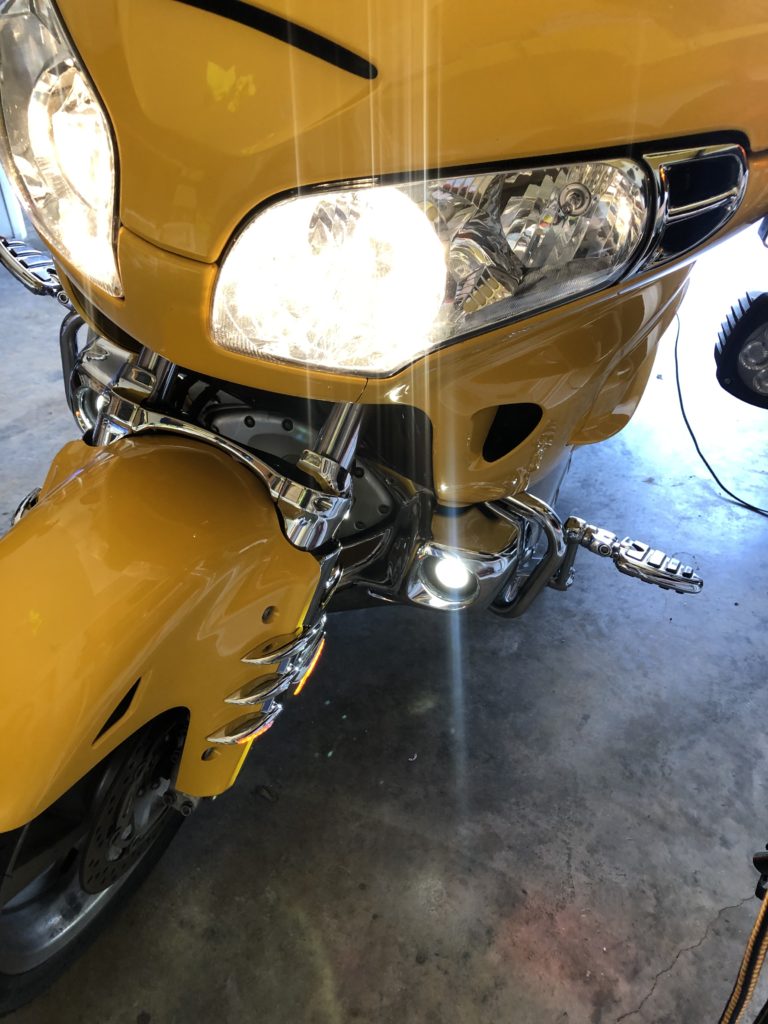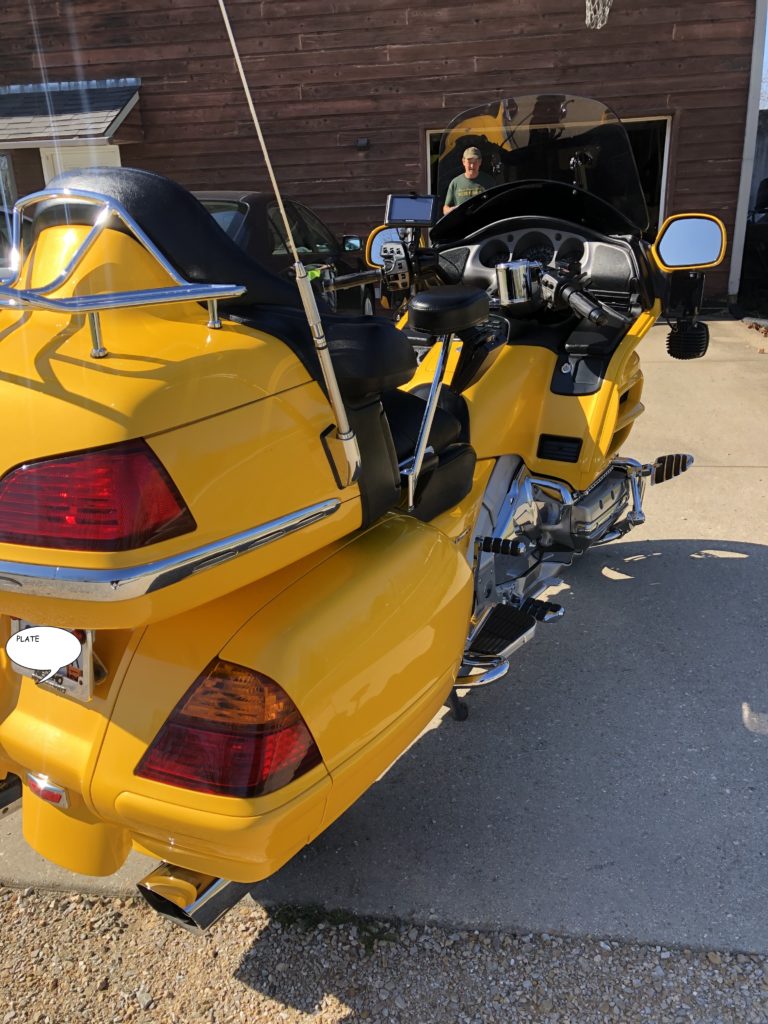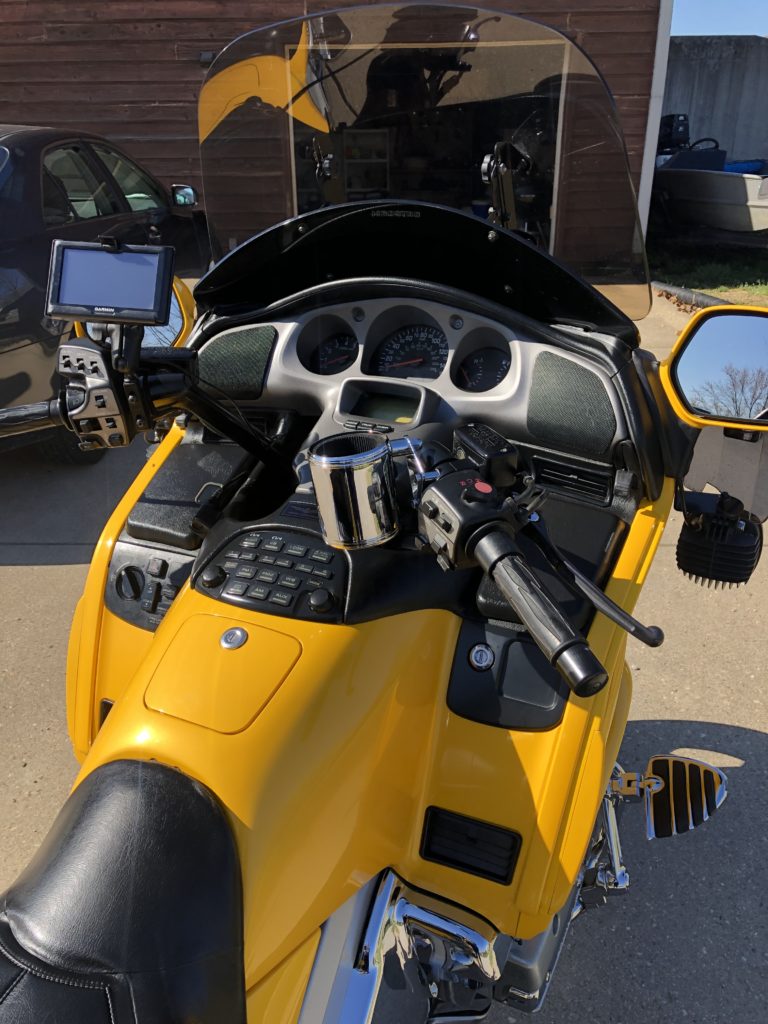 "Listen Russ, I've been meaning to talk to you about something. Next turkey season you should really use a shotgun instead of your Goldwing. Not glad to see you damage your bike, but it was the perfect excuse to get away." -Fred Harmon, engineer for Lockheed Martin (F-16 program), Goldwing mechanic, and owner of AngelRideVideos.com
Fred Harmon and his wife Diane were planning a getaway, so it was the perfect excuse for them to make a trip to the Ozarks. The Harmons have become fast friends over the past year, and the truth is, my kids think of THEM as family (actually, we all do).
After arriving on Sunday evening, Fred spent Monday working on the bike, taking it apart and then putting it back together with a couple of new twists (a MADSTAD Windshield and a pair of LED RIDER "anti-deer" lights), while Diane spent time with Amy and the girls. We all went to the CURRENT RIVER on Tuesday, taking a 20 mile boat ride up to BLUE SPRINGS and then spending the afternoon cooking, swimming, and hanging out on the gravel bars. We even stopped by Big Springs (the world's biggest fresh-water spring) on the way home. It was a great day in every sense of the word!
After Fred "forced" me to ride his Traxxion-equipped 2012, for which he just happens to be a dealer. All I can say is DANG! The custom suspension by Traxxion Dynamics is the real McCoy —- especially considering he is running their "Mega Monty". I broke down and had Fred install the upper and lower Traxxion triple trees with a brand new rear shock from a trike take-off. The improvement of the ride — cornering and low-speed turning — was beyond ridiculous.
As for the lights that Fred installed from LED Riders, I cannot imagine better lights for the money. These are super heavy duty and look great as well. They also throw out some serious light at a cost that is several times less than the Clearwater 'Kristas' and 'Ericas' that many people rave about on the GL1800Riders board.
I have the lights tied into my high-beams and aimed ever so slightly laterally to better see the ditches at night (I refer to them as my deer lights). I honestly think they are brighter than the Goldwing's actual lights, and will light up signs well over a mile down the road. LED Riders knocked it out of the park with such a quality product at a reasonable price. Highly recommended product!
Having always preferred to be a "look-OVER-the-windshield" guy (as opposed to a 'look-thru-the-windshield' guy), I was interested in the double-windshield concept as seen on the Madstads and Windbenders. I went with the Madstad, and am glad I did. It performs exactly as advertised and I honestly cannot imagine a superior product.
There are an almost infinite number of adjustments (up-and-down) for both the top and bottom shields, as well as the ability to change the angle / pitch of the top shield. I am 6'1″, running their 16 inch top-shield, with the bottom shield all the way down. You could easily be an inch or two (probably three) taller and still run the 16 inch top. You could also be shorter and adjust it downward. I can adjust the Madstad so that I have almost no air on me whatsoever (I often ride without glasses at night).
In fact, there is so little air behind the windshield with the Madstad that I had to take out my foam Tunnel Blockers in order to hear the radio through my external speakers (sound travels via air and there was a vacuum-effect being created).
BTW, the Madstad cuts way down on passenger-buffeting as well, shooting air over the top instead of creating the curl-back-around slipstream that conventional windshields do (because she no longer gets buffeted, Amy loves the Madstad maybe even more than I do). This same slipstream also helps keep rain off the passenger as well (the driver stays VERY dry).
I went with the Madstad over the Windbender because of good reviews on bigger Harleys, and because the rake is a built-in feature as opposed to being a one hundred dollar option. If anyone has any specific questions, just leave a comment and I will answer it for all to see. By the way, I would like to give a huge thank you to FRED HARMON. There might be someone on the planet who knows more about fixing Goldwings than Fred, but I would not have a clue who it is.
---
Yellow 2001 Goldwing: For Sale SOLD!
I bought the Wing in 2013 (I am the third owner). It currently (as of May 23rd) has 105,000 miles and may go up a bit as I am still riding. After purchase, Fred Harmon (ANGEL RIDE VIDEOS — maker of the best DIY Goldwing maintenance and fix-it-yourself videos on the web) went completely through it with the proverbial fine-tooth comb, including a complete valve job, doing everything that could conceivably be done.

In 2014, Fred installed the "All Balls" ball-bearings, the Traxxion Dynamics upper and lower triple-trees (Fred is a dealer), and a Kuryakyn fork brace. He also installed a brand new (trike take-off) rear shock, with a Progressive spring. He also fixed the common problem the GL1800 had with the suspension preload not working properly. The front shocks were rebuilt with Progressive Monotubes as well. This suspension upgrade is amazing as far as both ride and handling are concerned (particularly low-speed maneuverability).

Oil changes have been done at three thousand mile intervals instead of 5,000 miles or more because I do not use synthetic oil (I use Quaker State). All fluids have been changed on schedule, including final drive, coolant, and brake fluid, and the brakes have been changed as needed. Everything but regular oil changes, which I do myself, is done by Fred (he is now retired from Lockheed and living in Mountain Home — people bring him Goldwings from around the country to work on weekly).

Last year Fred put in a brand new (Hondaline) alternator and the year prior, a Yuasa battery. Two years ago the radio was sent off to be refurbished / upgraded (bigger amp) by LARRY MAURER (WING CONNECT) in Ohio. The last time Fred did an air-filter change (it's been several years) he installed screens over the intakes so that mice could not get in and make nests.

I'm not 100% sure of everything that Fred has done to the Wing but if you have questions about the motorcycle's maintenance or mechanical soundness / integrity, just private message him over at the GOLD WING RIDERS FORUMS where he, along with a few others, provide a great deal of technical guidance to those who need it, answering questions and providing advice free of charge. The motorcycle looks and runs great, and has since I purchased it. Oh; Fred also did the repairs after I hit a wild turkey a number of years ago (new plastic on fairing, new headlights, etc).

What more can I tell you about this motorcycle and why am I selling? After riding my entire life, a recent deer encounter with my truck has unnerved me a bit.

No checks, cash only. Cash in my hand to test ride. You drop, you buy. I reserve the right to refuse a test ride as well.
Features of my Yellow 2001 Goldwing that's For Sale


(see above if you have not) Always Garaged

New tires front and back — less than 1,000 miles. (Front tire is a Bridgestone 709 and rear is a Pirelli Snow Control Run-flat 195/55/16). I have done 50,000 miles on run-flats and refuse to run anything else.

Centramatics balancers on the front (beads in the rear). The ride is and always has been smooth as silk.

Anti-lock braking system (ABS)

Reverse

All four speakers upgraded to Polk Audio 501's — I almost always listen to my music externally instead of thru the intercoms.

Left front pocket has audio jack for phone or other…

Passenger Arm-rests

Ergo-Cruise Highway Boards (Kuryakyn)

Passenger Adjustable Passenger Foot Pegs (Add On)

Passenger and Driver cup-holders

Madstad Windshield (see my review above)

LED Rider under-the-mirror Lights (see my review above)

Baker Air Wings

Rear Back Rest (I've never used it, came with the bike)

Belly pan

LED Fog lights

Receiver Hitch

EXTRAS I AM THROWING IN:

Battery Tender (Battery Tender brand)

(2) HJC open-faced helmets (gray) with J&M headsets (boom mikes)

(2) Scorpion full-face helmets (gray) with J&M headsets — one helmet is a bit dinged

(2) Goldwing covers

Garmin GPS and mount (The GPS is not fancy but works great)

Light-brown / blonde sheep-skin seat cover

(2) beaded seat covers

Hitch Rack for Receiver Hitch

Trunk Rack Bag

5 oil filters / oil wrench / oil

Fred Harmon's complete set of videos for repairing / maintaining your Goldwing

Other miscellaneous???????

My wife's yellow Arai helmet (large) with com could probably be had at a bargain price as well (I think it is a large).