MADSTAD WINDSHIELD REVIEW


&




REVIEW OF LED RIDER'S HIGH OUTPUT

5 XM-L FLOOD LIGHT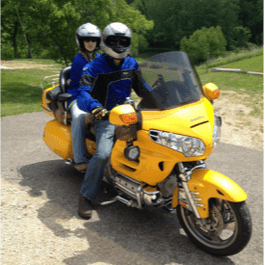 | | | |
| --- | --- | --- |
| | "Listen Russ, I've been meaning to talk to you about something. Next turkey season you should really use a shotgun instead of your Goldwing. Not glad to see you damage your bike, but it was the perfect excuse to get away." -Fred Harmon of Angel Ride Enterprises | |
After our "TURKEY INCIDENT" of a month or so ago, my bike (a yellow 2001) needed some work. Nothing against my local Honda dealership — great guys one and all —- but they are more of a huge ATV shop. So naturally I called Fred to ask some questions / advice. He and his wife Diane were planning on a getaway anyway, so it was the perfect excuse for them to make a trip to the Ozarks. Fred and Diane have become fast friends over the past year, and the truth is, my kids think of THEM as family (actually, we all do).

After arriving on Sunday evening, Fred spent Monday working on the bike, taking it apart, putting new parts on, and then putting it back together with a couple of twists (a MADSTAD Windshield and a pair of LED RIDER "anti-deer" lights), while Diane spent time with Amy and the girls. Since Fred finished the GOLDWING on Monday, we all went to the CURRENT RIVER on Tuesday. We ended up taking a 20 mile boat ride up to BLUE SPRINGS. We then spent the afternoon cooking (pics below), floating in the boat, swimming, and hanging out on the gravel bars. We even stopped by Big Springs on the way home. It was a great day in every sense of the word!

For the record (and particularly for the guys on the GL1800Riders Board), I want to let everyone know just how terrible a person Fred really is. He actually "forced" me to ride his Traxxion-equipped 2012, for which he just happens to be a dealer. All I can say is DANG! The custom suspension by Traxxion Dynamics is the real McCoy —- especially considering he is running their "Mega Monty". Can't justify it for my bike (I broke down and did the upper and lower Triple Trees with a brand new rear shock from a GW being triked), but the ride, cornering, and low-speed turning were ridiculous.
As for the lights that Fred installed, I cannot imagine better lights for the money. These are super heavy duty and look great. They also throw out some serious light. And the cost is several times less than the "Kristas" that some people rave about on the board. And as far as the Madstad Windshield is concerned, it performs exactly as advertised. There are an almost infinite number of adjustments (up-and-down for each individual shield, as well as the ability to change the angle / pitch of the top shield. By the way, I am 6'2″, running their 16 inch top-shield. You could easily be an inch or two taller and
still
run the 16 inch top.
I can adjust the ride so that if I want, I have almost no air on me whatsoever. Interestingly enough, there was so little air behind the windshield that I had to take my foam Tunnel Blockers out in order to hear the radio through my external speakers. Not sure why, but the acoustics were different with the Madstad (BTW, the Madstad does not cut down on road noise even though it cuts way down on buffeting). My wife also gets less buffeting with the Madstad, although the Baker Hand Wings do an excellent job of helping with that situation (we did have to use a Dremel to cut a small notch in the bottom of the Bakers to accommodate the lights).
I went with the Madstad over the Windbender because of good reviews on bigger Harleys, and because the rake is a built-in feature as opposed to being a one hundred dollar option. If anyone has any specific questions, just leave a comment and I will answer it for all to see. By the way, I would like to give a huge thank you to FRED HARMON. There might be someone on the planet who knows more about fixing Goldwings than Fred, but I would not have a clue who it is.