IS IT ANY WONDER THAT LARGE NUMBERS OF NURSES ARE WONDERING ABOUT THE BENEFITS OF FLU SHOTS?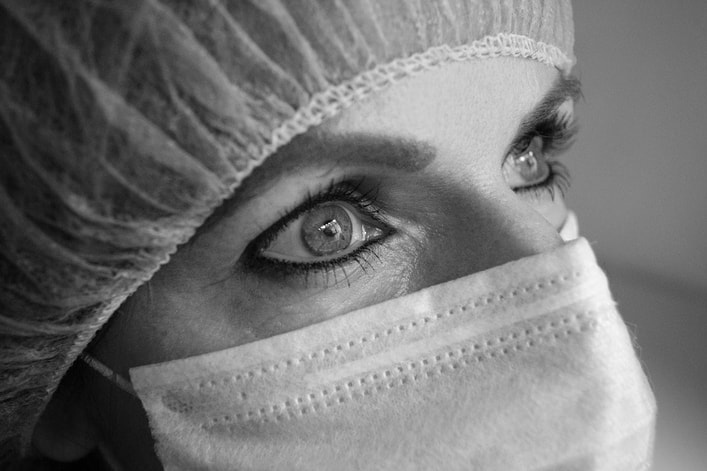 I wouldn't hope to guess at the number of nurses I've treated over the course of the past three decades, but it's been a bunch. Experience has shown me that as a group, they are not only sharp, but reliable, honest, and caring. It seems that the public agrees. If they retain their title again this year (we'll know in a few days), it will be the seventeenth consecutive year that nurses have been ranked as the most trustworthy and ethical group within the medical field (you knew it wasn't going to be
BIG PHARMA
or
CHIROPRACTORS
!). According to a January 2018 article on the website of the American Hospital Association (
Nurse Watch: Nurses Again Top Gallup Poll of Trusted Professions
)……
"Nurses once again topped the Gallup Poll's annual ranking of how Americans view 22 major professions with 82% of the public rating their honesty and ethical standards as "high" or "very high." Nurses have ranked first for 16 consecutive years and every year except for one in the 19 years that Gallup has surveyed public opinion on what profession is most trusted."
Interestingly enough, we've seen in the past that large numbers of nurses have questioned the need for mandatory flu vaccines (HERE). And while most nurses are now being forced to vaccinate or lose their job (HERE), brand new research shows that the number of nurses questioning the need for this shot is actually increasing. Last month's issue of the American Journal of Infection Control (Factors for Compliance with Infection Control Practices in Home Healthcare…) revealed that nearly 1/3 of home-health nurses are not any too jazzed about flu vaccines.
"Many infections are preventable through compliance with evidence-based infection control strategies. Home healthcare nurses' compliance with standard precautions, including hand hygiene, adherence to aseptic techniques, and use of personal protective equipment (including gloves, gowns, masks, eye protection, and face shields), can be instrumental in preventing the spread of infections among patients and providers."
When quizzed about these "strategies" for controlling infections, nurses seemed to be in agreement with most standard medical thinking. For instance, nearly 100% agreed that hand washing protects patients from infections. An almost equal number (97.5%) recognized that, "Infection prevention practices help protect me from contracting infections." So why in the world would so many nurses (over 30%) disagree with this statement; "The influenza vaccine is safe"? In fact, the study went on to conclude that "Only slightly more than two-thirds (68.5%) of nurses in our sample indicated agreement that the influenza vaccine is safe….".
So, why would such a large number of professionals — professionals who are highly trained in infection prevention and control — consider the flu vaccine to be unsafe? They, probably more than any other profession, realize that the flu vaccine can cause flu, believing "that it would make them sick." They're right you know. At least practically speaking. While it's technically true that you cannot get flu from the flu vaccine, you can certainly come down with FLU-LIKE ILLNESSES, which can be, for all intents and purposes, indistinguishable from the flu. What does this have to do with pharmaceutical giant, Johnson & Johnson? Nothing and everything.
Earlier this week Johnson & Johnson was slammed with the revelation that despite a myriad of LAWSUITS OVER THE TOXICITY OF J&J BABY POWDER and over two decades of denials that their powder contained / contains cancer-causing asbestos, it seems that this is not quite accurate. Take a peek at a few of the CHERRY-PICKED highlights from the three day old exposé in MedPage Today by Vicky Stern (J&J Hid Knowledge of Tainted Baby Powder) concerning a woman named Darlene Coker, whose suit against J&J went nowhere. Now we know why.
"Throughout the lawsuit, J&J denied the allegations. The company was not compelled to disclose internal documents and, without sufficient proof to back her claim, Coker had to abandon the suit. Now, two decades later, J&J's baby powder has come under renewed scrutiny. Internal documents from J&J, obtained by Reuters, tell a different story about the product's safety — showing that… 'the company's powder was sometimes tainted with carcinogenic asbestos and that J&J kept that information from regulators and the public.' The first mention of needle-like contaminants occurred as early as 1957, and a J&J scientist's lab notes from 1972 cites 'incontrovertible asbestos.'"
J&J's defenders have repeatedly said that the amount of asbestos exposure from talc powder didn't and doesn't amount to a hill of beans. Despite their assertions, once I started studying asbestos I quickly spotted the 'needle-like' truth. According to Asbestos dot com, there are six distinct types of asbestos, with 'chrysotile' or white asbestos being the most common (for the most part, asbestos is named according to its color). As you may have already guessed, there are other forms of asbestos that are much more dangerous.
"Anthophyllite was used in limited quantities for insulation products and construction materials. It also occurs as a contaminant in chrysotile asbestos, vermiculite and talc… Serpentine asbestos has curly fibers made up of sheets of crystals…. Amphibole asbestos has needle-shaped fibers, and studies suggest it takes much less exposure to amphibole asbestos to cause cancer, compared to serpentine asbestos."
About 95% of all asbestos is serpentine-shaped (curly fibers). However, "Amphibole asbestos has needle-shaped fibers, and studies suggest it takes much less exposure to amphibole asbestos to cause cancer, compared to serpentine asbestos." The following was taken from Wikipedia's entry on asbestos. "By 1973, US federal law required all talc products to be asbestos-free. Talc, however, can sometimes be contaminated with asbestos due to the proximity of asbestos ore (usually tremolite) in underground talc deposits…… Amphibole class fibers are needle-like. Amosite, crocidolite, tremolite, anthophyllite and actinolite are members of the amphibole class." My point, other than you cannot trust pharmaceutical companies such as J&J? That folks, AS I'VE SHOWN YOU MANY TIMES PREVIOUSLY, is the point.
Johnson & Johnson's serial deception strikes home even harder once you realize how entangled the company is in the FLU VACCINE industry. Can their vaccine division be trusted any more than their talc division? A year ago this month, Camille Chatterjee (a "Content Strategist" for Johnson) wrote an article for their website titled 5 Things to Know About This Year's Flu Shot. The fifth bullet point was essentially a PRESS RELEASE (A New Vaccine in the Works has the Potential to be Even More Effective) that stated….
"Since vaccines are created so far in advance of flu season each year, sometimes the virus mutates in an unforeseen direction by the time winter comes along, and the strains in the shot don't match the strains that are actually circulating. An ideal solution to this would be to have one universal flu vaccine that would work every year, no matter which strains were most prevalent in a given season. It's a potential option that doesn't exist—yet."
Firstly, flu vac efficacy is so horrid (see following link) that it wouldn't take much improvement to be able to call your product(s) "more effective" than WHAT'S ALREADY OUT THERE (even in the absence of "GENETIC DRIFT"). Secondly, even though they admit that it's at least a decade before a UNIVERSAL FLU VACCINE is market-ready, it is already being heavily promoted and hyped as a wonder drug (see link). In similar articles published six weeks ago on both the J&J website (Johnson & Johnson Unveils New Vaccines Launch Facility to Support Global Rollout of Novel Vaccines) and Fierce Pharma (Johnson & Johnson Steps Up Vaccines R&D—and Prepares for Launches—with €72M Plant), we saw that JANSSEN — a J&J subsidiary — is working on vaccines for "dangerous diseases" such as Ebola, HIV, and….. you guessed it; influenza.
If VACCINE DAMAGE DENIAL weren't so trendy, people would be more apt to question lumping a flu vaccine into the same category as these other diseases. Not to be crass, but unfortunately we can't discuss this topic with recently deceased NY state representative and flu-vac advocate, JOSE PERALTA, who industry adamantly insists didn't die from the flu shot that he believed (in my opinion correctly) was killing him. As always, if you like our post, be sure and spread the wealth by liking, sharing, or following on FACEBOOK. And if you are looking to get healthier in the New Year by reducing your systemic inflammatory load, THIS POST might be right up your alley! Merry Christmas!