LIGAPLEX I & II
(Ligament Support Formula)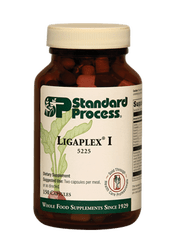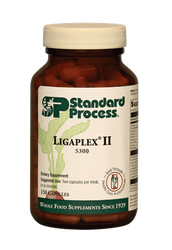 LIGAMENTS are the tough bands of tissue that connect one bone to another bone. TENDONS are the tough, cord-like Connective Tissues that anchor muscles to bones. FASCIA is the clear, yellowish-clear membrane that tightly covers muscles. They are all Collagen-Based Tissues and made up of the same basic building blocks. Ligaplex I & II both contain these building blocks. Why is this critical to know? Because whether you are trying to heal a tendinous injury such as a ROTATOR CUFF TENDINOSIS, or a ligamentous problem such as a DISC HERNIATION, does it not make sense to feed your body the exact things it is going to need in order to repair these tissues? Sure it does! Ligaplex is an excellent product that provides the nutrition needed to help strengthen and heal the ELASTIC, COLLAGEN-BASED CONNECTIVE TISSUES. It is a GLUTEN FREE product that was formulated in 1959. Ligaplex……….
Supports the body's normal connective tissue repair and synthesis processes
Supports healthy joints and muscles
Supports bone growth and the synthesis of cartilage
Contains buckwheat, which supports the body's natural anti-inflammatory response
Contains a combination of key ingredients from Manganese B12TM, Cataplex E, Ostrophin PMG, and Cataplex A-C-P
Proprietary Blend: 775 mg
Bovine bone, calcium lactate, oat flour, bovine liver, veal bone PMG extract, dried pea (vine) juice, bovine kidney, beet (root), inositol, nutritional yeast, dried beet (leaf) juice, dried buckwheat (leaf) juice, buckwheat (seed), carrot (root), ribonucleic acid, bovine adrenal Cytosol extract, dried beet (root) juice, bovine spleen, bovine spleen, mushroom, para-aminobenzoate, soybean lecithin, and carrot oil.
Manganese lactate, gelatin, water, calcium stearate, colors, dicalcium phosphate, gum acacia, ascorbic acid, mixed tocopherols (soy), arabic gum, starch, sucrose (beets), vitamin A palmitate, and cyanocobalamin.