BAPTIZING ON THE JACKS FORK RIVER

"If the Holy Spirit is working on Sunday morning, you're going to baptize Sunday afternoon. You may not know ahead of time."
– Dennis Purcell of Gladden Baptist Church in Salem, Missouri, complaining about the Park Service trying to make churches get a 48 hour advance permit to do baptisms in the Current and Jacks Fork Rivers.
Thank goodness that Congressman Jason Smith put a stop to that nonsense a year ago (although OTHER NONSENSE continues).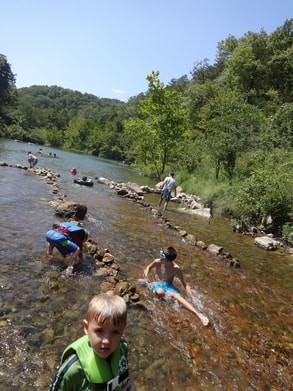 On Sunday, our church met below "Steel Bridge" on the
JACKS FORK RIVER
about three miles from Mountain View (It later runs into the
CURRENT RIVER
). It is where my two older children were baptized six years ago — when the river was running at flood stage. Sunday, however, was sunny and hot (100 degrees), with the water level at it's usual August levels (low).
Many children from our church were baptized, including my ETHIOPIAN DAUGHTER, Grace. Not only did we have a great service, but I think that everyone had a great time afterwards playing in the water, climbing around the bluffs, eating, floating, building a dam, and jawing in the shade.