DR. LYLE BOUCK: AMERICAN HERO & CHIROPRACTOR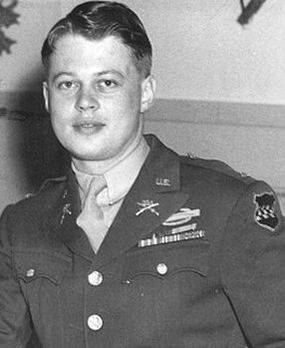 I've been a WWII history buff as long as I can remember, and at times have written about it on this blog.  Part of that comes from the fact that one of my Grandfathers was killed in Belgium's Ardennes Forrest during one of the European Theater's most famous and important battles, the Battle of the Bulge. 
Operation Watch on the Rhine (The Battle of the Bulge) was Hitler's final attempt to remain in power and salvage what was left of Nazi Germany. With Stalin's vengeance-minded Red Army rapidly approaching from the east, Hitler thought it might be possible to launch a surprise attack on the Western Front toward the port city of Antwerp, effectively splitting the allied forces in two, where they could be surrounded and eliminated. Hitler believed that America was sick enough of watching her sons die in the second European campaign in two decades, that we would agree to an end of the western war on his terms (as opposed to "unconditional surrender"), leaving him able to focus all his efforts on the far scarier Soviets.
Having just finished reading Alex Kershaw's (Bedford Boys) The Longest Winter, I found myself in awe of the book's main character, one Lyle Bouck Jr. Bouck is from Fenton (the St. Louis area), just down the road from where my wife is from. Having grown up in the Depression, Bouck was just 14 when he entered the National Guard. By the time he was 16 he was a supply sergeant, and by age 20, he was one of the youngest of the Army's commissioned officers (a lieutenant), leading the 99th's 394th Intelligence & Reconnaissance (I&R) Platoon.
Bouck's men were experts trained at going behind German lines to gather information and / or capture German soldiers to bring back for interrogation. When Hitler's surprise attack came in the freezing cold of December 1944, Bouck's platoon was one of the first to realize something big was going on. They dug in and held fast at Lanzerath, Belgium, effectively blunting the German attack by holding them (armor included) up just long enough (18 hours) so the allies could blow key bridges.
Their effort effectively threw Germany's strict time schedule off from the beginning of the operation. Although the Allied lines "bulged," they did not break. This allowed Patton just enough time to rush 3rd Army's tanks over 100 miles to Bastogne to relieve the embattled 82 Airborne (the Battling Bastards of Bastogne — make sure to watch Band of Brothers) — something he had been planning from the moment he first heard of the Nazi attack.
Bouck's platoon ran out of ammo and was captured, leaving him believing he was a complete failure. Much of Kershaw's book is the amazing story of survival of this group of POW's in the remains of Hitler's rapidly shrinking (and increasingly volatile) Third Reich. Although a few died of disease, exposure, and their wounds, the majority of Bouck's platoon (barely) survived. They eventually became the most decorated group of WWII SOLDIERS for their part in the Battle of the Bulge. Just how big was their role?
DD Eisenhower's son John, a renowned historian, wrote that his father had told him that the actions of these few men were the single most important in all the war. Over three decades after the fact, their heroism was recognized and honored as they were given a large number of medals and citations; some of them posthumously (RIP Bill James).
After the European war ended in spring of '45, Bouck, his young body decimated by hepatitis, malnutrition, and the wide array of other health issues that most POW's faced, was flown back to the States. Kershaw writes, "Though still only in his twenties, for several years after his return to St. Louis, Lyle Bouck was a shadow of his former self. He suffered the lingering effects of hepatitis and started to experience almost constant aches. It is only after he visited a chiropractor that he began to regain his health." Because of this experience with CHIROPRACTIC, Bouck decided to become a chiropractor himself, eventually being, "recognized as one of the best practitioners in St. Louis".
Although not in good health, First Lieutenant, Dr. Lyle Bouck is still alive today. In fact, back in April — almost 71 years to the day after he and his men were liberated from the German Stalag System — the St. Louis Post Dispatch ran a story on Bouck and his men (HERE). Although Bouck would never refer to himself as a hero, he and his men were just that — heroes. I stand at attention and salute you and your men Officer Bouck (HERE are some pics of Bouck today, with a short piece on why he and his men deserve the honors they've received).
In my twenty five years in practice, I have had the opportunity to treat hundreds of men like Bouck — heroes who would never claim honors for themselves. Their stories are all amazing. But there aren't many of them left. If you know a WWII vet, make sure to honor them today by thanking them for their sacrifices and service. In fact, this is something we should be doing for all our vets.