Although the term "Dry Needling" was coined by Dr. Janet Travell in her Magnus Opus (Myofascial Pain and Dysfunction: Trigger Point Manual), it has been around for thousands of years as a form of ACUPUNCTURE. Practitioners use it to treat BOTH SIDES OF THE COIN we call Myofascial Syndrome (TRIGGER POINTS & FASCIAL ADHESIONS). Dr. Travell began working on Trigger Points back in the 1930's and eventually became JFK's personal physician.
For decades, the standard of care for Trigger Points has been to inject them with a local anesthetic such as lidocaine, oftentimes served up with a side of steroids. It was eventually discovered that injecting saline could elicit the same effects. By the time that Dr. Karel Lewitt published his ground-breaking 1979 paper for the journal Pain (The Needle Effect in the Relief of Myofascial Pain) research had revealed that not even saline was needed to achieve pain relief when treating Trigger Points.
"In reviewing techniques for therapeutic local anesthesia of pain spots, it appeared that the common denominator was puncture by the needle and not the anesthetic employed. The effectiveness of treatment was related to the intensity of pain produced at the trigger zone, and to the precision with which the site of maximal tenderness was located by the needle. The immediate analgesia produced by needling the pain spot has been called the "needle effect"."
Dr. Lewitt, who along with the world-famous Vladamir Janda, were part of the renowned Czech School of Manual Medicine, was a stickler for restoration of function. He believed that you did not start treatment by first looking for structural aberration except in cases of trauma — which is, unfortunately, THE USUAL STARTING POINT of the virtually the entire medical community. He was so adamant about this that he had any number of "rules" he taught his students. "The real world to be conquered is dysfunction." "Our object is functional pathology." "There is not just one method of solving these problems, and you must adapt your methods to the object – restoration of function." And perhaps my favorite, "Even when there is structural pathology, improvement is due to improvement in function."
For his 1979 paper, Dr. Lewitt needled 312 points on patients dealing with Chronic Pain, achieving analgesia in 271 of them (87% success rate). The number one area he was needling was the Atlas (C1 vertebra), with Axis (C2) being 5th on his list. Interestingly enough, these "Upper Cervical" segments are areas where not only nerves become irritated when SUBLUXATION is present, but cord irritation can be present as well. This is the basis of BJ'S HIO TECHNIQUE, as well as the hundreds of similar Upper Cervical Specific techniques that have followed suit.
Lewitt stated in his paper that, "the posterior arch of the atlas may be the single most important trigger zone in headaches of cervical origin." Although the importance of the Upper Cervical region of the spine has been foundational in the Chiropractic treatment of Myofascial Syndromes, Myofascial Pain Syndromes are merely the tip of the iceberg. Fortunately for patients, this realization is starting to infiltrate mainstream medicine. Case in point can be noted from the title of an article published in this month's issue of the medical journal Practical Pain Management (Undiagnosed Atlas Subluxation in Patient with Pain and Poor Myofascial Function).
Dr. Lewitt also talked at length in his paper about SCAR TISSUE and spent a significant of time talking about the Dry Needling of scars (many of them POST-SURGICAL SCARS). Out of 35 scars needled, he achieved analgesia in 33 of them, and the "Huneke Effect" in 22 of these. He describes the Huneke Effect as, "the subsidence of seemingly unrelated symptoms after needling of a scar." This quote is similar something that famed whiplash researchers, Gargan & Bannister, said years ago when they described the, "bizarre and seemingly unrelated symptoms" that often resulted from MVA'S. FYI, Dr. Huneke was a German surgeon who started injecting anesthetics into scars back in the 1920's.
Although there are any number of 'turf wars' over who can or can't do Dry Needling, the truth of the matter is that whether the points being needled are due to Trigger Points or Fascial Adhesions, they correspond to acupuncture points at a better than 90% rate. Not only was this confirmed by Travell and Simmons in their book, but Dr. Peter Dorcher's Trigger Points And Acupuncture Points: Anatomic and Clinical Considerations essentially said the same thing, using several sources as evidence. He concluded that……
"Of the 255 trigger points, 92% had anatomically corresponding acupuncture points. Of these acupuncture points, 79.5% had regional pain indications similar to their corresponding trigger points. Complete or near-complete agreement in the distributions of the myofascial referred-pain patterns and acupuncture meridians were found for 76% of corresponding points; at least some agreement was found for another 14%."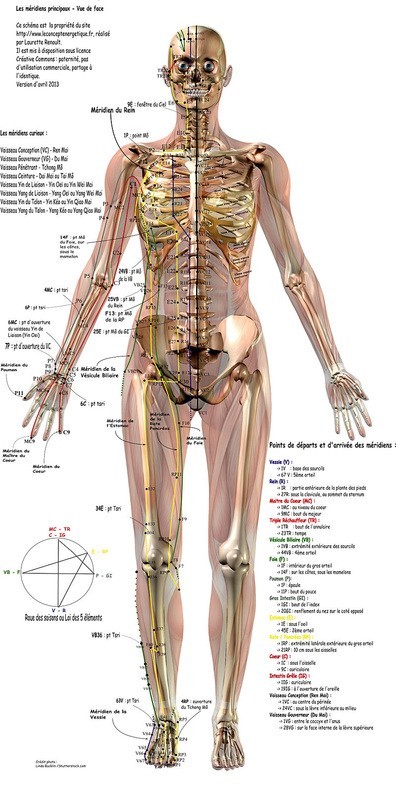 TRIGGER POINT FORMATION AND THE RELATIONSHIP TO DRY NEEDLING
Dr. Larry Keeley of Texas A&M is a true expert in the fields of biochemistry and physiology (not to mention entomology), having received his Ph.D before I was even born (I'll be 49 in a week). Not only is he a professor and researcher who has published any number of scientific studies, he still does peer-review for over 20 journals. I'm telling you this to tell you that Dr. Keeley created an absolutely amazing series of educational YouTube Videos that explain the how, what, and why of both Trigger Points and Dry Needling to solve Myofascial Pain Syndromes.
MY PERSONAL EXPERIENCE WITH A
CHRONIC TRIGGER POINT
When it comes to Dry Needling there are several schools of thought, which can essentially broken down into two broad categories. Dry Needling can be performed using Acupuncture needles, which are 'filiform' solid-core needles, but much flimsier and smaller in diameter than hypodermic needles. Or, it can be done using the hypodermic needles, which are much heavier gauge and hollow.
I developed a chronic right sided LEVATOR TRIGGER POINT several years ago that has at times, almost driven me crazy. It will refer pain very specifically to the base of my occiput; just behind my mastoid process (the large knob of bone behind the ear). Not only can this headache be crushing, but at times the associated muscle spasm has gripped me hard enough that I could not move my head without excruciating pain.
MY TRIGGER POINT RELIEF STORY
Although Trigger Points and Fascial Adhesions are intimately related to each other, Tissue Remodeling is not nearly as effective for the former as it is for the latter. What have I done for my Trigger Point? I've gotten ADJUSTED (helpful for a bit). I've figured out SOMETHING WEIRD that helps at times, but has certainly not proved itself a sure thing. I've gouged my Trigger Point with a Theracane until my hands could barely grip the thing. I've been on an ANTI-INFLAMMATORY DIET for years (although TP's are certainly "Inflammatory", I know few people who have been able to solve them simply through ADDRESSING Systemic Inflammation). One of the most effective things I've done is to focus on EXTENSION THERAPY. All of this led me to my recent experience with Dry Needling.
DISCLAIMER: I was certified in Acupuncture in 1991. I don't really practice Acupuncture much any more because I have found Tissue Remodeling to be both quick and effective for most musculoskeletal problems (HERE). I am sharing with you what I did to solve my Trigger Point issue — I am not suggesting that you do what I did (kind of like I didn't suggest you do HOME FMT'S). Depending on where the needles are inserted, there are any number of problems that could occur — some of them quite serious. Hitting a nerve or puncturing (and deflating) a lung are a couple of these. Infection is another. There are others.
Although I'm not as extreme as Tim Ferris, I have always been prone to experiment on myself. Enter Dry Needling. Although I have done lots of "Ring the Dragon" patterns in Acupuncture (inserting needles around injured areas or wounds) as well as needling about a million "A-Shi" points (these are commonly called "Ouch" points and do not necessarily correspond to Acupuncture Points), I had never really stuck a needle into a Trigger Point with the express purpose of turning it off. In fact, I still haven't — my son did it for me.
After experimenting with Acupuncture Needles, I went out and bought a small sack of 20 cent hypodermic syringes (complete with needles) at our local farm store, making sure the owner knew I had not taken a liking to METH. I showed my son where the Trigger Point was located (big; roll it around and you can actually hear it "snap" over and over again), and had him stick the needle into it a number of times, and from different angles (sometimes I would do this after cupping). Although my traps are big enough it shouldn't be a problem, I warned him that going too deep could cause a Pneumothorax (deflated / collapsed lung).
While the first time was somewhat effective, the second time around knocked it out of the park. Although the point still fires a bit, I have had ZERO (nada, zilch, nothing) REFERRED PAIN to the back of my head for at least a month. The only drawback I have found is that repeated puncturing with a hypodermic needle causes a bit of temporary soreness (and in some people will likely cause some BRUISING). But the results have been good, and my workouts have not aggravated the TP, even though I've been hitting it (HERE). Not sure what the long-term outcome of this will be, or if I might start using this technique in the office. Bottom line, if you are one of those people who is struggling with Chronic Trigger Points, start thinking about Dry Needling.