MOUNTAIN VIEW ARKANSAS TO MOUNTAIN HOME ARKANSAS

PUSH MOUNTAIN ROAD
I've always loved the ride to Mountain View, Arkansas. Depending on how you decide to go, it's between 2.5 and 3 hours to get there. I've have yet to find a route I don't like —- and there are a
bunch
of them. If you get a chance to look at a map of Mountain View, Arkansas, you'll see that it looks like a spider, with numerous legs (roads) coming out of the body.
My usual riding partner is my wife Amy. But with her at her mom's helping take care of GLYN'S things, it was not difficult to get Malachi to saddle up for a Saturday morning ride. After sticking some new low beams in our YELLOW 2001 GL1800, Malachi and I bundled up and left Mountain View, Missouri at about 6:00 am. It was 58 degrees and clear, with the hi temperature projected to be 78 — a beautiful day for riding, and a pleasant respite from the flooding of the last couple of weeks. Our route took us through Thayer / Mammoth Springs, where we stopped at Mal Wart to purchase a cheap camera (we got an underwater camera so we can take pictures of our CURRENT RIVER SNORKEL TRIPS), and then on to Old Hardy Town, where we exchanged highway 63 for highway 62.
After heading through Ash Flat and winding our way through some back country roads, we stopped in Franklin (pop. 100?) and ate a delicious breakfast at Calabama Restaurant. We turned onto Lacrosse Road at Violet Hill, and then turned south on 58 just after Melbourne, eventually crossing the White River and coming into Mountain View from 14 South (by the way, this small section of 14 was quite fun to ride). On 58 we started to see bikes. And as we got closer to Mountain View, we saw lots of bikes!
Although we had no idea it was going on, this happened to be the weekend for the annual Mountain Music & Motorcycles rally. Needless to say, Malachi had never seen so many bikes together in one place before. We made a quick loop through Mountain View and saw hundreds upon hundreds of bikes (many Wings, but mostly HD's). After fueling, we made our way to the junction of 5, 14, 9, and the White River. We wound our way up 14 through the town of Fifty Six, and onto 341. Before long, we found ourselves at our destination —- Push Mountain Road.
All I can say about the curves of Push Mountain Road is WOW! They were everything they were cracked up to be. Although not as famous (or as many hairpins) as the PIG TRAIL out of Eureka Springs or Scenic Seven out of Harrison, PUSH MOUNTAIN ROAD (a few pictures HERE) is actually one of Arkansas' most beloved motorcycle roads for serious riders (although there was little traffic on the road, we did see a few sports bikes really winding it up). The first of the previous two links contains a couple dozen reviews of the road from previous riders, several who actually compare Push Mountain to The Dragon at Deal's Gap.
Although I thoroughly enjoy the twisties, this road as well as many of the roads in Arkansas need to be ridden when the leaves are off in order to get the full effect of the mountains. I love the mountainous scenery and it's hard to see through the forest, even though the road runs along a narrow ridge for the most part. You continually catch glimpses, but the there are just enough trees and underbrush in most places to block a great deal of Push Mountain's magnificent views.
We found our way back to highway 5, heading over to Norfork / Salesville. We took the short detour to ride across the Dam at Norfork Lake and then we were back to Mountain Home and headed home from there. We made it home just after noon, covering just over 250 miles. In all honesty, I must say that I like highways 9 and 58 (both out of Melbourne) far better than Push Mountain Road. Just be aware that my assessment is made on a combination of the road and the scenery as opposed to the road itself. I will, however, be riding Push Mountain Road after the leaves fall —- my assessment might change. Below are a few pics that Malachi snapped while rolling down the road (click on the pics to enlarge them).
PUSH MOUNTAIN ROAD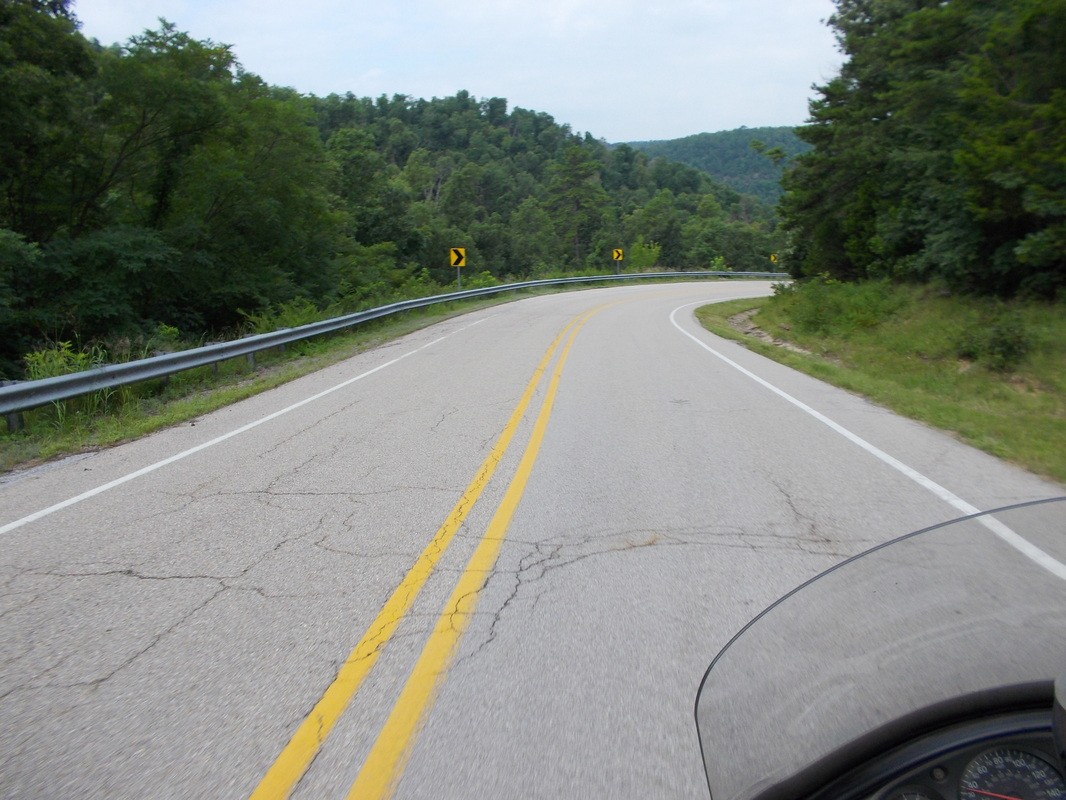 PUSH MOUNTAIN ROAD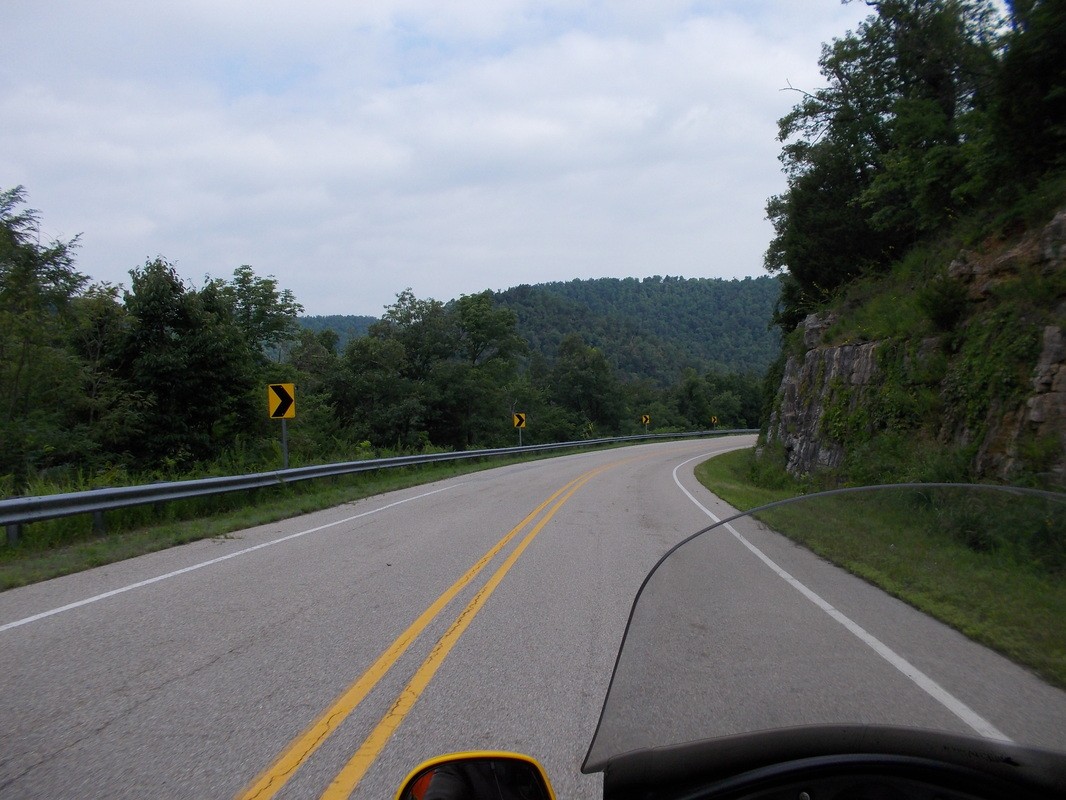 HEADED NORTH ON 5 OUT OF MOUNTAIN VIEW, ARKANSAS

SOME OF THE BEST VIEWS WERE FOUND ON HIGHWAY 58