MANIPULATING EVIDENCE-BASED MEDICINE USING INVISIBLE AND ABANDONED STUDIES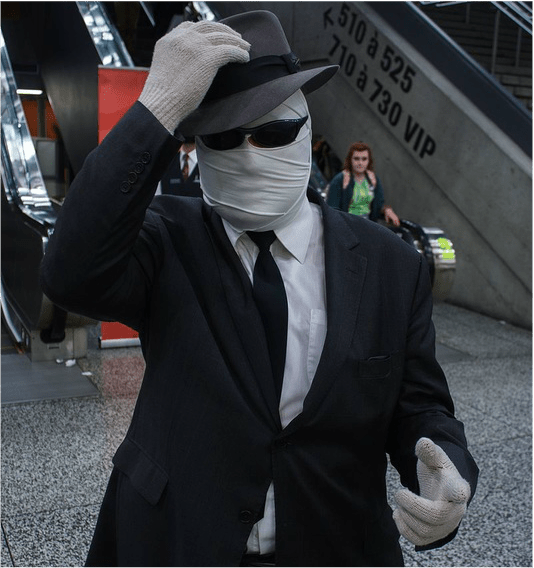 MEET THE INVISIBLE STUDY
Before we begin, let's imagine for a moment that I am going to apply to the prestigious engineering program at the University of Trask. In order to get in, I need an A average. But gosh darn it, I have problems with English Comp. Although I eventually got in and got my engineering degree, it took me five attempts to get through English Comp with that required A. How was this accomplished while maintaining my perfect 4.0? Easy; I just dropped the class from my schedule at the end of each semester if I saw that I was not going to get the required A. Drug companies do the same thing every day, only in a far more insidious manner.
This month's issue of the journal Pediatrics published a study on the topic called Discontinuation and Nonpublication of Randomized Clinical Trials Conducted in Children. They looked at nearly 600 studies on children, that were registered (as required by law) with the federal government over at Clinical Trials dot gov. It did not take the authors long to realize that half of the registered studies they reviewed were never published (almost 1 of 5 of the unpublished studies ended prior to completion, while 30% never published the results of their completed research). Although the authors claimed that the number one reason for this was, "Difficulty with patient accrual," (they couldn't find enough parents willing to "GUINEA PIG" their children), this doesn't tell the whole story —- particularly once you consider that a similar situation is occurring rampantly in the adult population as well.
We already knew that the problem was severe from a study that was published in PLoS Medicine (Timing and Completeness of Trial Results Posted at ClinicalTrials.gov and Published in Journals) three and a half years ago. The authors of this study — this one concerning research done on adults — randomly pulled 600 studies that were posted on the same government website — Clinical Trials dot gov). What they discovered was shocking, and as a tax-payer and consumer of healthcare, should enrage you.
"From the 600 trials with results posted at ClinicalTrials.gov we randomly sampled, 50% had no corresponding published article.  Reporting was significantly more complete at ClinicalTrials.gov than in the published article for efficacy results, adverse events, and serious adverse events."
In other words, with WHAT WE ALREADY KNOW ABOUT THE DEVIOUS NATURE OF BIG PHARMA, we must assume that the reasons for this discrepancy between results that were filed with the government and the results being reported in peer-review are that firstly, the drugs were not as effective as claimed, and secondly, were far more dangerous than claimed. If you don't believe that the practice of medicine can be hazardous to your health, take a moment to READ THIS POST. The easiest way to for the pharmaceutical industry to solve this problem of studies not living up to expectations is to pull a page out of the Mafia's handbook, and like Jimmy Hoffa, make sure that these incriminating studies never see the light of day.
This problem (Discontinuation & Nonpublication of research) is so ubiquitous in the medical field that it frequently goes by another name — INVISIBLE AND ABANDONED STUDIES. Back in January, I gave you an example of this phenomenon by sharing my RECORD-SHATTERING ABILITY for making consecutive free throws. While that article contained a comical tongue-in-cheek example of what's going on with medical research, it's certainly not a laughing matter when lives are at stake — particularly the lives of children. Unfortunately, Invisible & Abandoned studies do kill children, and are exactly the reason that so many children committed suicide after taking Antidepressant medications (HERE).
Think about it this way for a moment. We already know that drug safety statistics are dramatically skewed due to the fact that only about one in one hundred adverse events are ever reported to the proper authorities (no; that's not a misprint — HERE and HERE). This is why when you factor in the studies that are conveniently being dumped or buried, the SAFETY PROFILES OF VIRTUALLY ALL OUR NATION'S DRUGS are not even in the ballpark of where they are widely (and proudly I might add) claimed to be. Big Pharma and Big Government — a match made in heaven. If, of course, you happen to be a major stockholder. Massive corruption. It's the nature of politics and it's the nature of EVIDENCE-BASED MEDICINE. What we call "science" today is decided by those with the most cash.
The RIAT ACT (Restore Invisible & Abandoned Trials) — an initiative supported by some scientists and a few journals to require researchers to publish their results Clint Eastwood style; good, bad, or ugly — could help solve this problem. Unfortunately, the government is married to Big Pharma (HERE, HERE, and HERE are a few examples of thousands), and blood is thicker than water. As long as the government refuses to hold industry's fingers to the fire, do you think they will follow the RIAT Act? Not for the most part, and certainly not with hundreds of billions of dollars at stake.
The point of all of this is for you to begin to realize that your health is largely up to you. Many of you have figured this out already (HERE). Some of you are still searching. Not only have I created an awesome resource for you to use to help understand what it's going to take for you to regain your health, it is completely and 100% free. No strings attached. Just take a peek at THIS ARTICLE and spend some time studying the links within. I promise that you will be less likely to be bamboozled by a system that views you as a commodity — nothing more, nothing less.