NEW CAR WASH IN MOUNTAIN VIEW MISSOURI
THE CLEAN MACHINE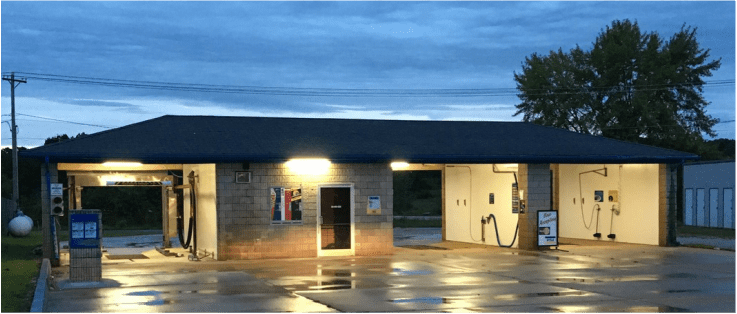 I get it; the "new" car wash on 5th street, across from Yarber's Mortuary and next door to Chowning's Auto Parts & Storage isn't exactly new.  In fact, I remember when Lynn Ipock opened the "Wash & Roll" two decades ago — about the same time I moved from just down the street in old Nappytown to our current location out on South 17.  But the refurbishing job that new owners Jon and Robin Nielsen have done over the past several months will take you back to the days when everything there was clean, shiny, and new —- and actually worked like it was supposed to.  
After Lynn sold the business, maintenance and upkeep were let slide. Due to time and neglect, the Wash & Roll did exactly what you would expect it to — fall prey to Newton's Second Law of Thermodynamics. Known simply as 'entropy,' this law of physics says that the nature of all things is to fall apart over time unless energy and / or work are added back. Needless to say, there had not been much work put into the car wash for a very long time. How bad was it? Let's put it this way; no one would have been surprised to see the old car wash torn down to make room for something else. Enter Jon Nielsen.
Jon knew exactly what it would take to resurrect this business from the grave. You see, Jon's one of those old fashioned 'solve anything / fix anything / build anything / figure it out' kind of guys. In the past he has worked as a builder and contractor. He is an excellent concrete man. He runs all sorts of heavy equipment. He also spent many years in the Car Wash business before selling everything four years ago and leaving with his family to become missionaries. They're back, and over the course of the past six months, everything about the car wash has been fixed, upgraded, or replaced. Even the name has changed. The old Wash and Roll is now the Clean Machine.
We've known Jon and his family for just over six years and can honestly say that they are some of our favorite people. In fact, his twins became OUR ETHIOPIAN DAUGHTER'S best friends as soon as they arrived in America five years ago this month — before they could even speak English. Jon is a person of impeccable character and integrity, and not surprisingly that's exactly how he runs his businesses. But rather than taking it from me, when you stop by to get your car, truck, boat, mower, tractor, etc washed, look around and notice everything he's done — most of it himself. And be sure to take a couple minutes and talk to him since he's frequently there making sure everything is working properly and running smoothly.
The brand new Facebook Page for Mountain View Missouri's Clean Machine Car Wash can be found HERE. Make sure to like and share!
Best wishes with the new endeavor Jon & Robin,
We love you both!
Sincerely, Dr. Russell S. Schierling