ANKLE TENDINOSIS
Because there are so many tendons of the ankle; and because these numerous tendons are surrounded by and covered with ligaments and fascia, there is lots of potential for TENDINOPATHY and / or FASCIAL ADHESION in the ankle area — including PLANTAR FASCIITIS.  It is often difficult to tell the two apart.  In the back of the foot / ankle, we have the Achilles tendon (ACHILLES TENDINOSIS).   On the inside of the ankle we have the Posterior Tibial Tendon (POSTERIOR TIBIAL TENDINOSIS).  And on the front of the ankle, we have the tendon of Tibialis Anterior (ANTERIOR TIBIAL TENDONOSIS).   Sometimes doctors will refer to various sorts of Ankle Tendinosis as Ankle Tendinitis.  Hopefully you already understand the difference.  If you do not, you really need to spend just a few minutes on our TENDINITIS -vs- TENDINOSIS page.  Some doctors will also refer to these problems as "Tenosynovitis" because the tendons are surrounded by thin Synovial Membrane-like Sheaths. 
However, there are numerous tiny tendons that can (and do) frequently become injured, often ending up in a Tendinosis. I am not going to cover all of these, nor am I going to give you all of the names. If you are so inclined you can find them online. What I do want to do, is to give you some great pictures from world's preeminent anatomy textbook for over 100 years — Gray's Anatomy.
PICTURES OF ANKLE TENDONS

(The Blue Represents the Synovial Sheaths Surrounding Some Tendons)
LATERAL / OUTSIDE ANKLE TENDONS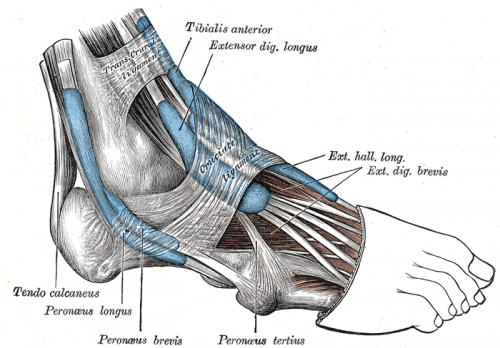 MEDIAL / INSIDE ANKLE
TENDONS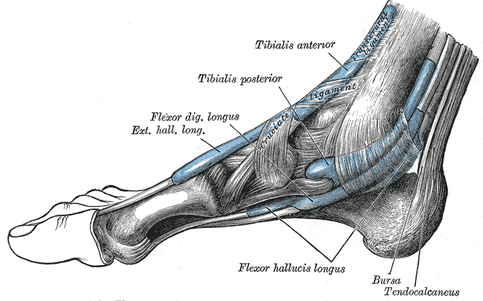 Bear in mind that there are not only lots and lots of tendons in the ankle (sort of like the HAND & WRIST), but lots of other ELASTIC, COLLAGEN-BASED TISSUES that are not completely shown in this picture (muscles, ligaments, tendons, and fascia). For more information, see our CHRONIC ANKLE SPRAIN page. You can also visit our PATIENT TESTIMONIAL PAGE as well.