MEDIAL EPICONDYLITIS
(GOLFER'S ELBOW, FLEXOR TENDINOSIS, ELBOW TENDINOSIS)
In twenty years of practice, I have treated numerous cases of 'Golfer's Elbow'.  However, I am not sure that I have ever seen a case of Golfer's Elbow that was actually caused by playing golf.  Golfer's Elbow (Elbow Flexor Tendinosis or Medial Epicondylitis) is not to be confused with the much more prevalent TENNIS ELBOW (Elbow Extensor Tendinosis or Lateral Epicondylitis). 
The difference between Elbow Tendinitis and Elbow Tendinosis is not merely a matter of semantics. If you do not understand this concept, please spend a few minutes on our TENDINITIS -vs- TENDINOSIS page. And contrary to popular belief, most cases of Lateral Epicondylitis are not caused by INFLAMMATION. This is why CORTICOSTEROID INJECTIONS and OTC ANTI-INFLAMMATORY MEDICATIONS do not help more than temporarily. In fact, current research says that these types of medicines degenerate tendons and make the problem worse. Elbow Flexor Tendinosis (Medical Epicondylitis) is typically caused by overuse, although it can sometimes be caused by a direct blow to the muscle or tendon. The most common group of people that I see with this particular problem are weightlifters who tend to go overboard training their arms (bicep curls).
Wolff's Law of Anatomy and Physiology states that, "Bones grow in response to mechanical stress on a joint — whether the stress is god or bad". Because there are so many muscles attaching to the Medial Epicondyle, there is a great deal of normal mechanical stresses put on this portion of the elbow. The bone in this area grows in response to this normal stress. Thus, you can see how / why the Epicondyles are enlarged.
ELBOW ANATOMY: MEDIAL EPICONDYLITIS
SUPERFICIAL FOREARM MUSCLES OF LEFT ARM
MEDIAL EPICONDYLE IS CIRCLED

This is the Palm-Side of the left forearm.  The circled area is the Common Flexor Tendon (notice how many muscles arise there).  RIGHT:  The arrow is pointing to the Medical Epicondyle.  It is easy to see why Golfer's elbow is technically called Medial Epicondylitis.
MEDIAL EPICONDYLE OF RIGHT ARM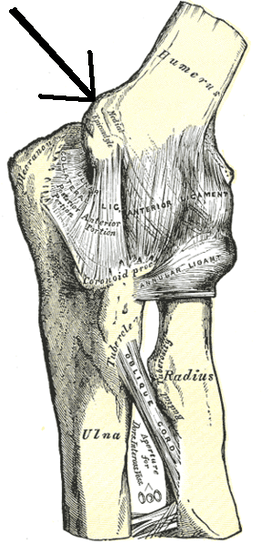 FINDING THE ELBOW'S MEDIAL EPICONDYLE
You may be able to find it simply because it is painful. But even without pain, you can find the Common Flexor Tendon (Medial Epicondyle) in one of two simple ways.
Hold your arms out in front of you like Frankenstein. Now bend one arm at 90 degrees and grab your other elbow. Your thumb will land in the area of the Medial Epicondyle.
You can also hold your arm out in front of you with the palm up. Now curl the fingers toward your forearm and wiggle or move them. The bulge of muscle that you feel on the inside of the elbow is the Common Flexor Tendon, where Medial Epicondylitis occurs.
Read more about TENDINOPATHIES, or learn about how I treat these problems in my clinic (TISSUE REMODELING). And while you are at it, please visit our PATIENT TESTIMONIAL PAGE as well.