CHRONIC PAIN AND CHRONIC ILLNESS CAN MAKE DESPERATE PEOPLE GULLIBLE

All of us have been in what we would consider to be "desperate" situations.  Unfortunately, desperation tends to make people gullible — willing to do things they wouldn't otherwise do or spend money they wouldn't otherwise spend.  As defined by Webster's, the word gullible means, "easily duped or cheated."  Few things make people more desperate than severe health problems. 
Before you write me off or insinuate that I am picking on you, please realize that I am not equating gullibility with stupidity — far from it. It's just that when people get desperate, they are far more likely to act irrationally.  Doubly unfortunately, there are any number of unscrupulous people out there ready and willing to take advantage of the situation by separating desperate people from their hard-earned cash.  Probably the best example of this phenomenon has to do with obesity and weight loss.
Four years ago last week, US News and World Report published an article called The Heavy Price of Losing Weight that stated, "According to data by Marketdata Enterprises, a market research firm that specializes in tracking niche industries, Americans spend north of $60 billion annually to try to lose pounds, on everything from paying for gym memberships and joining weight-loss programs to drinking diet soda." 
Firstly, DIET SODA as a weight loss tool is like trying to dig a hole in the sand on the beach near the ocean — the harder you dig, the faster the whole thing caves in.  Secondly, a quick peek at America's statistics on obesity shows that most of this sixty billion dollars is an exercise in futility.  But that doesn't stop desperate people from trying every new supplement or gizmo that's advertised. 
Something similar can be said of people struggling with CHRONIC PAIN (or even more so, of people with children or family members dealing with chronic pain). Because my site is geared toward helping people who have had long-standing problems with various chronic pain syndromes (HERE and HERE), I am literally inundated with EMAILS asking if I can help such-and-such problems (HERE). Let me give you an example of something that happened just a few weeks ago and unpackage it for you (actually, this is a combination of two different emails).
PROSPECTIVE PATIENT: I am desperate and would be interested in traveling to come see you to see if you can help me with my pain. My problems include
C-spine fusion with neck and trapezius muscles so tight and sensitive they can barely be touched (diagnosed with MPS).
L5 discectomy with talk of needing a fusion.
Fibromyalgia and all-over pain.
TMJ
Lifelong migraines.
chronic pelvic pain from interstitial cystitis and endometriosis.
A recently surgically repaired shoulder (capsular tear) that is not healing properly.
Chronic plantar fascitis (I had a surgery for it several years ago).
Although I have been through lots of therapy, adjustments, massage, injections, meds, and home ice, heat, stretching, etc, nothing has really helped and often times makes me worse, sometimes much worse. I pretty much hurt everywhere. Do you think you can help me?
ME: Taken as a whole, I have serious doubts of being able to help you with most of these problems. However, on some level I believe that you could help yourself. I would suggest you read everything you can on my site about CENTRAL SENSITIZATION and then take a look at THESE POSTS. Controlling inflammation is a key part of any healing process. Maybe down the road we can revisit this conversation.
Sincerely,
Russ Schierling
PROSPECTIVE PATIENT:  I think you are a rip off artist and your site is a sham.  You should be sued for false advertising for claiming you can help people with chronic pain.  How could you possibly know you can't help me without seeing me???!!!!
After practicing a busy, rural, "see-everything" clinic for two and a half decades; given a decent history I have a pretty good idea of which people I am more likely to help and the people I probably can't. Although I don't have time to answer all the do-you-know-someone-in-my-town-doing-the-same-thing? questions I get each and every day, If you send me a history of your problem (what caused it, how long have you've had it, what makes it worse, what brings you relief, etc, etc, etc) I will let you know whether or not I think I might be able to help you.
Believe me when I tell you that if I wanted to I could make obscene amounts of cash by taking advantage of those of you desperately trying to find solutions to your CHRONIC, ONGOING, LONG-TERM PAIN. That's not my goal.  Honestly, it's heartbreaking turning desperate patient after desperate patient away, knowing that I don't have the answer to their particular problem (and it continues to shock me how many of you there are out there).
While it's true that given the right circumstances, I am able to help people with CHRONIC NECK PAIN, POST SURGICAL PAIN, FIBROMYALGIA, TMJ / TMD, CHRONIC SHOULDER PROBLEMS, INTERSTITIAL CYSTITIS and several other AUTOIMMUNE DISEASES, PLANTAR FASCIITIS, MYOFASCIAL PAIN SYNDROME (Trigger Points) — and maybe even ENDOMETRIOSIS on some level, when you add it all together this person has a SYSTEMIC PROBLEM and is going to require some time studying the EXIT STRATEGY I provided.
I don't claim to be able to help everyone who struggles with chronic pain — there are far too many causes, circumstances, and variables. What I do promise is that if I think I can help you, I will tell you so. What's really nice about what I do — what sets me apart from other practitioners — is that you are going to know in one treatment whether my approach is going to help or not going to help. If you don't see real, tangible results after a single treatment (DISC HERNIATIONS ASIDE), then more of the same isn't going to help you either.
So don't get upset with me if I tell you I can't help. I'm just trying to be honest with you and looking out for your best interests by saving you a lot of needless time, effort, and expense.
WHERE ARE WE LOCATED?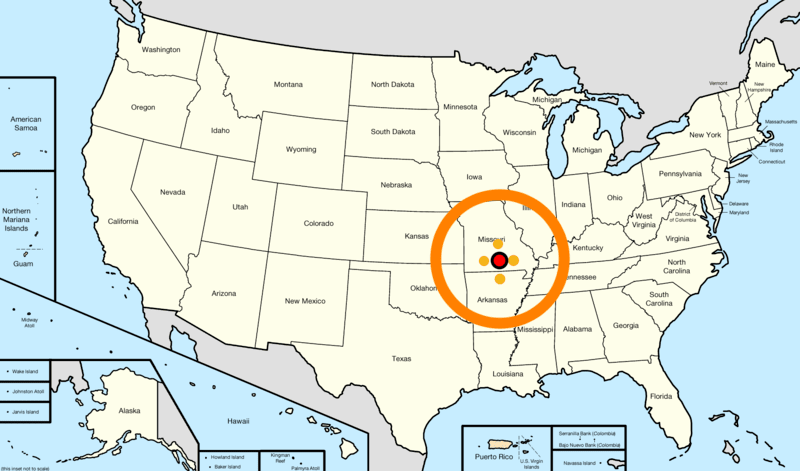 Because we are seeing increasing numbers of LONG DISTANCE PATIENTS, allow me to give you some information concerning our location (Tuesday and Thursday mornings are set aside for long distance patients.  The clinic is centrally located in MOUNTAIN VIEW (see the red dot above), in the southern part of Missouri, in the very middle of the state.  We are right next door to West Plains (about a half hour away). 
Springfield (the nearest airport) is about an hour and a half drive to our west (BRANSON is just south of Springfield).  Rolla is an hour and a half drive to the north, Poplar Bluff is an hour and a half to the east, and beautiful Mountain Home, Arkansas is an hour and a half to the south. 
The orange circle indicates the distance you can drive in about five hours. Some of the cities within the circle include, Tulsa OK, Nashville TN, Wichita KS, Kansas City, Columbia, and Little Rock AR. St Louis is only about 3 hours away. For more information about what a "Long Distance" visit might look like, simply visit our FAQ PAGE. Bear in mind that most of you coming from a couple hours away will, depending on your problem, be seen as a regular new patient on a Monday, Wednesday, or Friday.