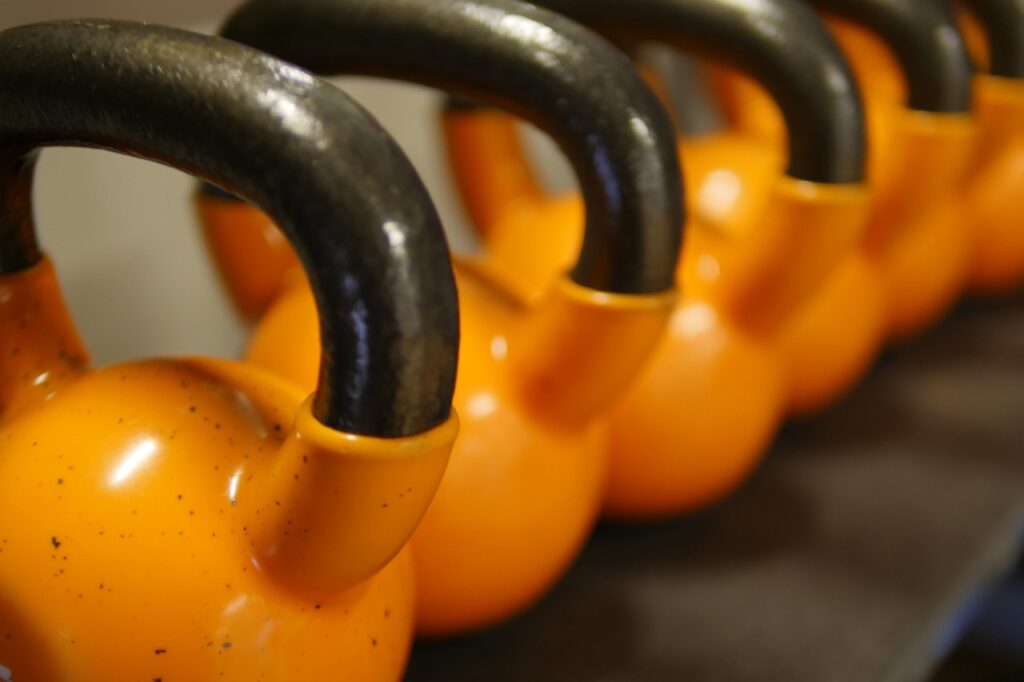 About a month ago, I posted a blog article on the amazing transformational power of Kettlebell Swings.  The one drawback to using Kettlebells —– their cost. Not only is each individual Kettlebell extremely expensive, you will likely need several different sizes / weights.  I did you a great favor by showing you how to make an easily adjustable, inexpensive Kettlebell-alternative called a "T-Bar".  You can read how to build one of these creatures with material found at your local hardware store (here in Mountain View or anywhere else for that matter) for under $20 HERE.  
Now I want you to meet Tracy Reifkind.
Four years ago TRACY REIFKIND was overweight.  In fact, for the decade of her thirties, her BMI bounced around in the absurdly high 25-30+ range —- GROSS / MORBID OBESITY.  Although naturally athletic most of her life, she had succumbed to the twin pitfalls of fast food and a busy lifestyle.  Four years ago at age 40, she realized she wasn't getting any younger —- or any healthier, and decided it was time for a radical change. 
She finally broke down and allowed her husband Mark Reifkind, a life-long elite athlete and long-time gym owner / personal trainer, help get her started on a simple program of walking a half hour a day (she did not want to lift weights), and low carb eating that she prepared herself.  She quickly realized that Mark was right about the fact that CARDIO DOES A POOR JOB OF WEIGHT LOSS, and she would have to add some resistance training to her routine. 
She dropped the walking and started swinging a Kettlebell two times a week for an average of 15 to 20 minutes.  That's all she did.  LOW CARB EATING and Kettlebell Swings.  No starvation diets.  No hours and hours of training.  No crazy / expensive weight loss formulas or equipment.  No gimmicks.  No tricks.  No drugs.  She simply cut the JUNK, and started a simple program that revolved around a single exercise —- the Kettlebell Swing.  Within a matter of three months, she had lost over 100 lbs!  Let me repeat that for those of you who are hard of hearing.  She lost 100 lbs in just over 100 days.
Tracy credits Kettlebell Training with her physical conditioning, as well as the reason she claims to have never hit a weight loss plateau during her three month journey. She currently maintains her weight consistently between 132 and 135 pounds, with a bodyfat level of about 17-18%. Besides being a mother of two, she maintains a small, private studio in California for training others how to do what she has done. But like I just showed you, there is really no trick to it. Learn what Low Carb eating is all about (HERE), and learn the proper way to do Kettlebell Swings (HERE).
Here's the deal folks.  There is not a reason in the world that you can't do what Tracy has done.  She, and people like her have removed YOUR EXCUSES.  Get off the couch, and learn to swing.  Sure it's difficult to make changes,  but when you see the difference that it makes in how you look and feel, the process itself becomes motivational!  For even more information on maintaining a healthy weight, visit our WEIGHT LOSS POSTS.  Start by creating a written plan, follow it, and start getting in shape today! 
If you find that exercise and weight loss are impossible even when you follow all the correct steps correctly (emphasis on correctly), it may be time for some metabolic testing to see where your physiology is malfunctioning.  What do I mean my "malfunctioning"?  Visit my posts on FIBROMYALGIA, GUT HEALTH, or THYROID PROBLEMS to learn more.